Problem:
A major automobile manufacturer needed to run compressed air lines to a number of different machines but had no space available for valves to be mounted at the machine location. They wanted to automatically turn on different compressed air legs from an existing PLC controlled solenoid panel. In the event of power or air failure they wanted all valves to close and shut off compressed air to the machines.
Solution: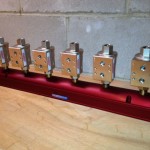 Plant engineers called Assured Automation as they had successfully used their automated valves and flow meters for previous jobs. Assured Automation's product specialist suggested they use the VA Series compact pneumatically controlled on/off valve, spring to close mounted on a manifold.
This compact automated valve was selected due to its higher Cv (flow coefficient) compared to solenoid valves. The VA Series combines a pneumatic actuator and fast on-off control valve into one body, eliminating packing glands, actuators and mounting kits. Since the actuator is part of the valve, costs are greatly reduced when compared to standard actuated valves. Operating life has been tested to well over 1,000,000 cycles and the balanced design reduces friction and wear. The stroke is linear and parallel to the flow, dramatically reducing the required force to close or open the valve. The internal waterway design was designed for optimum flow characteristics.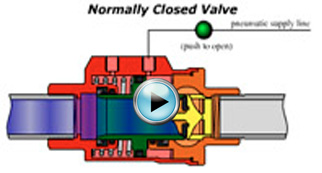 The VA's were successfully mounted on a Smartflow aluminum manifold which was located close to the PLC control panel. This arrangement greatly simplified field installation saving the automotive engineers space, time and money.