Coaxial Valve Cycle Life Extended By as Much as Ten Times Conventional Valves
Assured Automation announces a new line of VAX High Pressure Coaxial Valves for applications that require fast actuation, and strict durability and reliability. These compact automated valves combine a process valve and actuator in a single integrated unit with only one moving part. The VAX valve has a coaxial design offering high flow rates with minimal pressure loss, while extending the VAX's cycle life by as much as ten times that of conventional valves. The electric version of the VAX functions like a direct acting solenoid valve.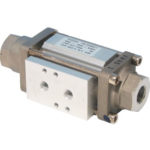 Durability is a key advantage to the VAX valve. These valves do not leak, coils do not burn out.
Shut-off speed is fast, occurring in as little as 0.25 milliseconds in either direction.
Its pressure balanced design with spring return allows the VAX valve to function regardless of system pressure or pressure differential on either side of the valve. The valves are available in 2-way or 3-way configurations with pressure ratings up to 600 PSI.
Since the VAX valve works with the forces of flow instead of against them, it is suitable for most vacuum, gaseous, gelatinous, highly viscous, pasty, aggressive or contaminated, or recycled fluids and gases from vacuum to 600 PSI.
VAX Coaxial Valves Configurability
Their ability to be customized makes the VAX valve a preferred solution in difficult applications. The VAX valve is available in electric and pneumatic versions. Direct-acting or air-actuated versions as well as two-way valves are available in brass or SS; 3-way valves are available in brass. The valves come Normally Open or Normally Closed.
VAX Coaxial Valves Featured Applications
The VAX valve is particularly well suited for high cycle applications. For example, a dying plant in Shoemakersville, PA uses a 140-foot long fabric dryer in their fabric dying process. The conventional solenoid valves used to control the natural gas jets in the dryer's built-in burner was failing too often. Their internal diaphragms became brittle and frequently broke, slowing down the fabric dying process.
"To keep competitive, we needed to improve the throughput in our drying process," recalls Rick Weller, plant engineer at Wolf Dye and Bleach Works, Inc. "In our frustration, we asked the engineers at Assured Automation to recommend better solenoid valves. When they identified the source of our problem, they recommended we switch to the Assured Automation VAX valve."
The VAX valve's wear-compensating seat proved to be the right solution, with its lower probability of catching fire and is lower susceptibility to decay under increased oxygen conditions. The 110-foot fabric dryer equipped with 12 burners and 36 valves, drying fabric at the rate of 25-75 yards per minute, has been in continuous service since the VAX valves were installed over two years ago, with no maintenance.
"We pride ourselves as a progressive company that takes our responsibility to protect the environment seriously," explains Weller. The Assured Automation VAX valves enables us to maintain a competitive advantage, and while better controlling the flow of natural gas, improving safety, and minimizing any environmental impact."
About Wolf Dye and Bleach Works, Inc.
Wolf Dye and Bleach Works is a privately-held textile and finishing company, located in Shoemakersville, PA. The company has been featured on the Science Channel's "How It Works" series. Its manufacturing capacity includes cotton, polycotton, and synthetic blends, dyeing and bleaching, napping, finishing open width and tubular goods as well as garment dyeing.
For More Information
More information on the Assured Automation VAX Valve can be found at:
Tel: 800-899-0553 or 732-381-2255
Fax: 732-381-2328
Email: info@assuredautomation.com