FireChek triggers quickly, securing pneumatically operated process line valves
LNG transport is growing as supplies for natural gas continue to grow in the U.S. LNG is used to transport natural gas to markets, where it is regasified and distributed through natural gas pipelines. The carriers store the LNG in cryogenic tanks during transport.
The United States embarked on a massive growth in LNG terminal planning and construction starting in 2010-2011 due to rapid increase in domestic supply. Three liquefaction terminals are planned for Louisiana, two for Texas, two for Oregon and one for Maryland. Regassification terminals are planned for New York (1), New Jersey (1), Maryland (1), Oregon (3), Maine (1), and Puerto Rico (1).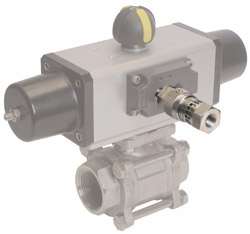 It is critical to design for safety for all components of the LNG supply chain to gain widespread public approval of planned plants and supply networks. Emergency thermal shutoff systems, such as those provided by Assured Automation's FireChek®*, are important components in safety plans and designs.
When designing cryogenic tanks for LNG transport, LNG vessel manufacturers rely on Assured Automation's FM-approved FireChek for emergency automatic shutoffs.
When FireChek senses excessive heat from a nearby fire, the FireChek immediately vents the pneumatic actuator and closes the actuator air supply line. The FireChek triggers quickly, securing pneumatically operated process line valves. Because FireChek responds to heat, not flame, it offers dramatically improved protection compared with conventional plastic tubing burn-through.
FireChek's manual reset allows routine performance testing for safety maintenance programs. A hot-air gun will quickly actuate FireChek. After cooling briefly, the FireChek can easily be reset without the use of tools, for continued protection. FireChek installs easily between the pneumatic supply and spring return actuator via two female threaded connections.
Rapidly responds to temperature rise, not flames
Vents actuator air pressure
Closes actuator air supply line
Needs no power source, self activates
Compatible with all pneumatic actuators
No contact with process fluids
Easy to test and reset
Reliable, intrinsic triggering
Easy to retrofit, installs in minutes
FM approved
Safety Standards and Regulations
NFPA 59A Regulations for Production, Storage, and Handling of Liquefied Natural Gas (LNG)
This Standard covers both construction and operation of LNG plants, including:
Plant siting and layout
Locations of process equipment
Storage container design
Safety assessment and calculation of the extent of exclusion zones
Fire protection, safety and security
Maintenance
Personnel training
Paragraph 12.3.1 of the NFPA 59A – Each LNG facility shall have an ESD [Emergency Shut Down] system(s) to isolate or shutoff a source of LNG, flammable liquids, flammable refrigerant, or flammable gases, and to shut down equipment whose continued operation could add or sustain an emergency.
NFPA 58 Liquefied Petroleum Gas Code
Chapter 5 of the NFPA 58 – Liquefied Petroleum Gas Code requires Emergency Shutoff Valves with all of the following means of closing:
Automatic shutoff through thermal (fire) actuation
Manual shutoff from a remote location
Manual shutoff at the installed location
Where fusible elements are used, they shall have a melting point not exceeding 250°ŸŸ F (121° C).
NFPA 57 Regulations for Liquefied Natural Gas Vehicular Fuel Systems
Chapter 7 of the NFPA 57 – Liquefied Natural Gas Vehicular Fuel System Code deals with fire protection, safety, and security. It covers fire protection, personnel safety and training for LNG vehicles, security and LNG fueling facilities. It requires fire protection for all LNG fueling facilities based on sound fire protection engineering principles, and includes a requirement for equipment and processes for emergency shutdown device system.
OSHA Regulations for Hazardous Materials
The relevant OSHA regulations for Hazardous Materials, referenced by the Standard Number 1910.106, require automatic-closing heat-actuated valve on withdrawal connections:
1910.106(b)(4)(iv)(c)
Flammable liquid tanks located inside of buildings, except in one-story buildings designed and protected for flammable liquid storage, shall be provided with an automatic-closing heat-actuated valve on each withdrawal connection below the liquid level, except for connections used for emergency disposal, to prevent continued flow in the event of fire in the vicinity of the tank. This function may be incorporated in the valve required in (b) of this subdivision, and if a separate valve, shall be located adjacent to the valve required in (b) of this subdivision.
U.S. Department of Transportation (US DOT) Federal Regulations
(49 CFR, part 193)
Provides specific and detailed requirements for storage facility siting and construction. The current 49 CFR, part 193, DOT regulations has adopted the 2001 edition of the NFPA 59A Standard (with minor changes).
EN1473 (European Norm) standard on onshore installation and equipment design for LNG
The EN1473 European Standard provides functional guidelines for LNG installations. It recommends procedures and practices for safe and environmentally acceptable design, construction and operation of LNG plants.
Visit the FireChek product page or call now for additional information:
/firechek/
*FM Approval through Memry Corp.
1-800-899-0553