Assured Automation Angle Valve Improves Production Capacity
The Production Capacity Problem
A major flavors company was looking to improve production capacity through automation. Operators had been pouring each product into totes in precisely measured portions. They either had to select product from one of numerous hoses piped to drums or walk to the inventory drum room to pour out the required product. The process was slow, inventory control was poor, batches were lost with operator mistakes, and the process was becoming too expensive for the company to be competitive.
This company required a high-cycle, fast-acting valve for their filling line upgrade. They wanted a valve that could last millions of cycles and quickly close to achieve tight tolerances on pours of various ingredients.
The High Cycle Angle Valve Solution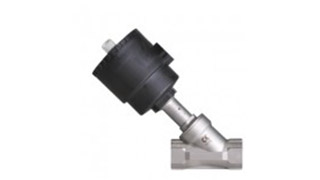 The flavors company tested Assured Automation's Ares Angle Valve and found the valves offered high Cv, were low-cost, had high cycle rates (up to five million), and were fast acting with less than 1-second response time. The valve was offered in NPT or clamp-end connections, which was ideal for the company's sanitary lines. Plus, the Ares system is flexible and easy to work with since it uses all industry-standard products (valves, weigh scales, regulators, etc.)
The Result: Batch Accuracy, Inventory Control, Cost Savings
The plant operators piped all their ingredients to a filling area with an Ares Angle Valve on each line. They used a weigh scale to control the pour of each product. The resulting improvement in accuracy of batches, inventory control, cost savings per batch, and time saved, convinced management to upgrade additional production centers.
For More Information
More information on the Assured Automation Angle Valve can be found at:
Tel: 800-899-0553 or 732-381-2255
Fax: 732-381-2328
Email: info@assuredautomation.com or billf@aa-fs.com