On occasion our sales team will receive a troubleshooting call relating to one of our products. The following pertains to a WM-NLC water meter that was not registering flow rates properly.
Problem: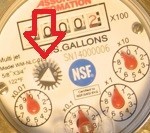 The customer was using a WM-NLC flow meter to measure the blow down water on his building's process cooling system. During his weekly inspection of the meter, he noticed that "the indicator triangle looked like it was jiggling around instead of rotating as it usually does."
Response: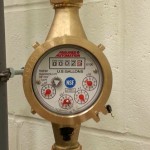 The customer sent us pictures to help out with diagnosing the problem. From the pictures we could see that the meter registered 2900 gallons so we knew that it had been working at some point since installation.
When the flow indicator triangle does not rotate the first thing we suspect is that the meter is clogged.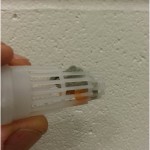 We had the customer pull the meter out of the line, clean the inlet strainer and back-flush. In this case, the filter was definitely clogged with debris from the system. Cooling towers are open to the air and it is not unheard of to get sticks, leaves, rocks and even birds stuck in the line.
Once the debris was removed from the strainer and the meter was back flushed, it began working properly once again.
We also noticed that the customer had the meter mounted vertically. Although the customer did not indicate any issues with the flow meter registering properly, we suggested that for greater accuracy it is recommended that the meter be mounted horizontally.
The customer then asked how often the filter should be cleaned. We responded that typically, on clean water applications the filter should never have to be cleaned unless there is an unusual occurrence.
For example, in a situation where the local water company has been doing work on the water lines and it is suspected that debris may have entered into the system, then a quick check of the filter is worth the effort.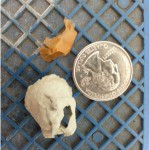 But in dirtier applications, such as this one, where there is a good chance that debris may routinely become trapped in the inlet strainer, it is a good idea to put the meter on a monthly or quarterly maintenance schedule.
The WM-NLC is a multijet dry-type totalizing water meter available in sizes from 1/2" to 2". It is produced in an ISO9001 certified production facility and is constructed in conformance with AWWA C708 standards.
The product complies with NSF/ANSI 61 Annex G and conforms with lead-free plumbing as defined by California, Vermont, Maryland and Louisiana state laws and the U.S. Safe Drinking Water Act that took effect January, 2014.
It is the ideal choice for a range of municipal and industrial water metering applications.
Find out more about the WM-NLC flow meter or view our full line of flow meters.