Application:
A major food processing company was searching for multiport valves to reduce the number of valves on their cooker skids and reduce the I/O for their control panels.
This plant had hundreds of 2-way automated valves on their skids. The size of these cooker skids was consuming plant production space. The electrical panels for controlling the automated valves had run out of space and a solution was needed.
Solution:
Assured Automation proposed the 30D Series. A 316SS 3-way full port valve with PTFE cavity filled seats and tri-clamp ends. Available in a variety of flow patterns with 90 degree or 180 degree rotation.

All valve materials, interior finish, and dimensions comply with 3A, FDA, and USDA requirements. They include an ISO 5211 mounting pad for the direct mounting of actuators.
Assured Automation also suggested the space saving and corrosion resistant Axiom limit switch.The solenoid is inside the switch housing which protects the solenoid from washdowns and eliminates the need to house the solenoid in cabinets. The Axiom offers convenience and cost savings benefits in washdown process environments.
Result: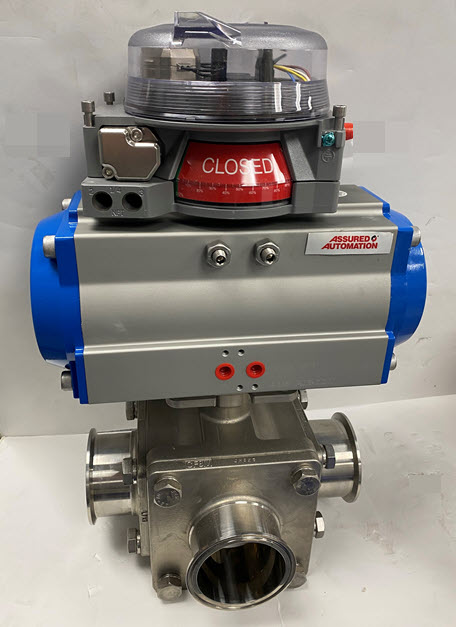 After careful engineering design the customer was able to use a single 3-way valve in many locations versus the typical two 2-way valves.
This configuration reduced the size of the cooker skids which was a significant space saver on the production room floor. Their cabinet sizes were reduced as well for I/O and solenoid space, which ended up saving thousands of dollars
Additional Information: