Designing safety shutdown into process systems can be extremely cost effective when considering the high costs of system failure. Ask Chevron, who recently paid $2 million in fines and restitution rewarded in a criminal case and an additional $10 million in connection to nearly 24,000 claims from residents, and in compensation to area hospitals and local government agencies as result of the Richmond, California refinery fire. And Chevron continues to fight another $1 million in citations issued by Cal OSHA and is still faces a lawsuit from the city of Richmond.
The Chevron Richmond refinery is California's third largest, and processes around 240,000 barrels of crude oil a day generating in-demand products like motor gasoline, jet fuel, and diesel.
In this case, a 1970s-era corroded pipe caused a leak that sparked the Aug. 6, 2012, fire, releasing flammable fluid that partially vaporized into a large cloud, engulfing 19 employees. The ignition and burning of the vaporized fluid created a large plume that spread well beyond the refinery confines, causing approximately 15,000 people in nearby residential areas to seek medical attention.
Once a small leak was detected — in an area where the average wall thickness of the pipe was thinner than a dime — Chevron failed to shut down production. Chevron continued to operate the unit under pressure while workers attempted to assess and repair the leak.
Process safety incidents happen at least once a week in the U.S. refinery industry. Several respected organizations report the inferiority of the U.S. oil industry's safety record, including:
U.S. Chemical Safety and Hazard Investigation Board (CSB)
Insurer Swiss Re 2008 report found accident-related losses four times higher at U.S. refineries than the rest of the world. Swiss Re, the world's second-largest reinsurer, reports: "Other countries that refine oil have experienced a decline in major refinery incidents over the last decade, whereas the U.S. appears to be following the opposite trajectory."
University of California Labor Occupational Health Program (LOHP), commissioned by the California Governor's Interagency Task Force on Refinery Safety
Safety Instrumented Systems
Safety Instrumented Systems (SIS) are the set of control elements dedicated to the proper functioning of the safety system. Prior to the SIS approach, a system would typically fail—either safely or unsafely—and cease to operate until repaired. In contrast, a SIS designed system can be maintained without loss of production or safety protection.
Reliability of system safety shutdown components is measured according to Safety Integrity Levels (SIL) and Safe Failure Fraction (SFF), providing objective comparison of instrument reliability across various suppliers. Each safety component is evaluated using a Safety Integrity Level (SIL) to identify its probability of failure.
Emergency Thermal and Electro-Thermal Shutoff Valves
Relatively inexpensive safety instrumented systems such as the FM Fire-Safe Thermal and Electro-Thermal Shutoff Valves sold by Assured Automation are used in plant applications where flammable fluids are piped and controlled.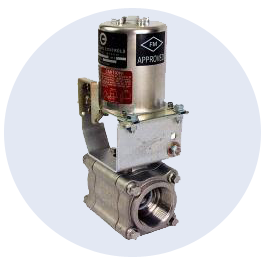 Producers of hydraulic oil, engine oil, glycol, drive oil and diesel fuel use Assured Automation's FM Fire-Safe electro-thermal link shut offs. The FM Fire-Safe Thermal Shutoffs' actuator shuts off valves automatically or remotely in reaction to heat, smoke or gas sensors. The actuator is designed so the valve can be operated manually in day-to-day service without voiding the fusible links.
The electro thermal link safety shutoff is used in some applications by connecting a ball valve to the fire alarm interlock to close on activation and prevent fluid from entering a facility. In other applications the Assured Automation's FM FireSafe Thermal and Electro-Thermal Shutoffs are used to prevent holding tanks on both the pump and fill side from feeding into a nearby fire.
Assured Automations' FM Fire-Safe Thermal and Electro-Thermal Shutoff Ball Valves are Factory Mutual (FM) approved at 165° F (74° C) and are assembled with an API 607 fire-tested ball valve. The thermal-shutoff has the highest SIL rating of SIL-4, which meets the most demanding performance level where the probability of failure is less than 0.0001. The electro-thermal link reacts to heat or to a low-power electrical pulse, such as those found on most smoke or gas detectors. The electro-thermal shut off ball valve can be used with electrical signaling systems which are activated by heat, smoke, gas, flame-energy, maximum temperature or rate of temperature rise. They are available in stainless steel, carbon steel, in sizes ¼" to 4". Connections types include butt-weld and flanged.
Federal Refinery Safety Regulations
In 1992, U.S. OSHA adopted the federal Process Safety Management (PSM)
standard to prevent releases of hazardous chemicals that could expose employees and others to serious hazards.
In 1996, U.S. EPA adopted the federal Chemical Accident Prevention Provisions (CAPP), also known as the Risk Management Plan Rule requiring facilities to submit risk management plans (RMPs) if they have more than a threshold quantity of a regulated substance in a process. According to the Code of Federal Regulations, Title 40, Chapter I, Subchapter C, and Part 68, RMPs must include:
Hazard assessment of the facility
Accidental release prevention program
Emergency response program
The PSM requires refineries to submit and regularly update safety plans related to process safety information, process hazard analyses, mechanical integrity, and management of change, and must include a hazard review, written operating procedures, worker training requirements, maintenance requirements, compliance audits, and incident investigation procedures.
President Obama passed the August 1, 2013 Executive Order: Improving Chemical Facility Safety and Security to improve chemical facility safety and security. The Executive Order establishes a Working Group, involving the EPA, Department of Labor, Department of Homeland Security, and other appropriate agencies to validate best practices and to test innovative methods for Federal interagency collaboration regarding chemical facility safety and security. The Executive Order intends to enhance and share information between agencies and overcome inherent agency differences. For example, the U.S. Chemical Safety and Hazard Investigation Board (CSB) does not conduct criminal investigations but relies on cooperation from industry workers to identify the root causes of accidents and recommending ways to avoid them. In contrast, the EPA has a division with 200 agents whose job it is to prosecute criminal conduct that threatens people's health and the environment.