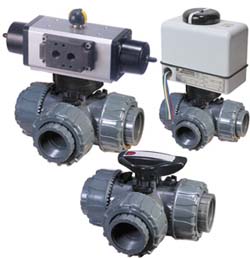 Assured Automation's PTP Series three way PVC ball valve is your solution for flow diverting, mixing or on/off isolation.  The PTP series will replace a Tee +2 valve linkage assembly at reduced cost and space, along with shorter installation and maintenance time.  The patented seat stop carrier allows for in-line microadjustment of the ball seating and features o-ring cushioning to minimize wear and prevent seizing.
PTP Series PVC Ball Valves also includes a patented DUAL BLOCK® locking union nut system, which ensures the nuts are held in position even under severe service conditions such as high vibration or thermal expansion. Integral mounting flange and bracketing allows for direct actuation and simple support, while a locking handle can prevent improper positioning.
PTP Series 3-Way Ball Valves are part of our complete range of valves and flow meters, engineered and manufactured to strict quality, performance, and dimensional standards.
Assured Automation also offers an online configurator.  Visit our PTP Series 3-Way PVC Ball Valve Configurator to build, view, price and order your valve package easily and quickly online.
Try our online PTP Series Configurator Now!!