Assured Automation offers field retrofit solutions for valves and actuators with NO process interruption
Problem:  A chemical plant contacted Assured Automation to inspect and assess the condition of their automated valves. Their equipment was getting older and they were having failures with their pneumatic actuators. They also had existing manual ball valves they needed to automate.
This company did not have a large budget nor the time frame required to replace their entire valve assemblies which would entail flushing their process lines, hiring piping contractors, shutting down for several days, and exhausting a huge chunk of their annual maintenance budget.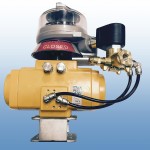 Solution: After Assured Automation reviewed the process, they found the valves were in excellent condition and did not need to be removed or repaired. The pneumatic actuators had seen moisture damage and needed replacement. Assured Automation offered field retrofit pneumatic actuator packages.
They did a survey of the assortment of ball valve brands and provided customized mounting hardware to retrofit each. Since the valves did not require removal from the pipeline, the plant was able to remain running during the swap of actuation, and the maintenance staff could do it at their convenience.
The cost savings was tremendous, the plant was now standardized on a single actuation package, and maintenance personnel were able to swap each actuator with 4 bolts. There were also a number of manual ball valves that Assured Automation converted to actuated valves which reduced operator involvement in the production process, streamlining the plant automation.
Contact Assured Automation for field retrofit of your existing manual or automated valves. Pneumatic actuators with limit switches, solenoids and positioners are available, as well as complete electric actuators. We can meet all classifications including weatherproof (NEMA4), Explosionproof (Cl1, Div1&2), Intrinsically safe, or Bus capable (ASi, Devicenet, Modbus, or Foundation Fieldbus)