Lead Free Motorized Brass Ball Valves Replace Problematic Solenoids in Leak Detection Systems
Problem: A manufacturer of home leak detection systems was seeking to improve their system used to shut off a home water supply in the event of a leak. They were currently using solenoid valves which were notorious for leaking after being in use for a while. These brass solenoids also did not meet the new low lead requirements for potable water.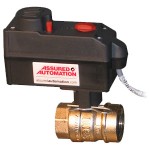 Solution: Assured Automation presented their SM Series which offers a lead free design, positive shutoff ball valve, compact electric actuator, 2-dry contact limit switches for feedback and a manual override.
This unit was ideal for use in the leak detection system and provided additional features the solenoids could not offer with the addition of time and cost savings.
SM Series:
Available in ½" to 2" line sizes, this NPT threaded quarter turn ball valve features a unique direct mount system that allows for extremely quick and easy actuator mounting, allowing for easy removal or replacement of the compact electric actuator.
Features & Benefits:
Simple, 1 clip-pin actuator mounting system eliminates the cost, weight, and installation time required by other valve/actuator mounting systems which require brackets and multiple fasteners
One size actuator fits all valve sizes which simplifies and reduces inventory
Pre-wired with a cable lead eliminates the need for opening the actuator and wiring in the field
Manual override for emergency operation of the valve requires no special tools, just a standard screwdriver to switch to manual operation and wrench to rotate the valve
Two internal limit switches (0° and 90°) to indicate fully open and fully closed position
Visual position indicator
Rugged gearbox construction for extended service life