PTP Series reduces cost and space on Arsenic filtration skid
Problem: A filtration OEM was looking for cost reductions on their arsenic filtration skids.
Solution: Assured Automation was contacted for suggestions. After a review of their process, Assured Automation suggested that the OEM should switch from stainless steel ball valves to a PVC valve. Assured Automation proposed their PTP Series pneumatically actuated three way valve, which would take the place of two automated stainless steel ball valves.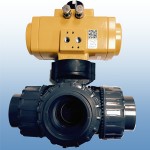 There was a significant monetary savings switching from 2 stainless steel ball valves to a single PVC 3 way valve. There was also a significant weight reduction of the arsenic filtration skid, which afforded the OEM additional savings on shipping costs.
PTP Series:
The PTP Series 3-Way Ball Valves can be used for flow diverting, mixing, or on/off isolation. Available in ½" to 2" line sizes with NPT or glue socket ends. The patented seat stop carrier allows for in-line microadjustment of the ball seating, and features o-ring cushioning to minimize wear and prevent seizing.
The PTP also includes a patented DUAL BLOCK® locking union nut system, which ensures the nuts are held in position even under severe service conditions such as high vibration or thermal expansion.