Lug and Wafer Resilient Seated Butterfly Valves Feature Direct Mount Actuators
Assured Automation announces its new  Resilient Seated Butterfly Valve. The ST valves offer high Cv (flow coefficients), ISO top mounting, one-piece body with self-centering disc and a large selection of direct mount actuators and gear operators.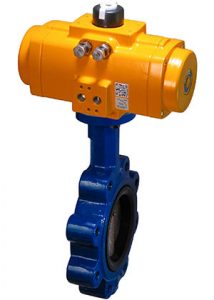 The ST butterfly valves are also available as a manual valve with limit switches for those applications that do not require automation but do require feedback to a PLC or network bus system.
The valves are available 2″ thru 12″ with a pressure rating up to 225 PSI and 14″ thru 24″ have a pressure rating up to 160 PSI.
The ST Series features a one-piece, ductile iron body. The fusion bonded epoxy body coating offers superior exterior corrosion resistance. Also, since no gasket is required for mounting between flanges, additional gaskets or O-rings are not needed for installation. This superior performance butterfly valve is available with either Buna-N or EPDM seat. A 316 Stainless Steel disc is standard at a competitive price. Bronze and Ductile Iron discs are also available.
The self-centering disc and stem provide greater reliability by eliminating taper pins or disc screws which can fail from abrasion, corrosion, and fatigue.
The spherically-machined and hand polished disc edge provides a bubble-tight shut-off at minimum torque and improves overall endurance by extending the seat life. The seat provides complete isolation of the line media from the valve body.
Butterfly Valve Configurability
The ST Series is available in Wafer, Lug and Flanged type bodies. The Lug valve is approved for dead end service when downstream piping must be removed to maintain equipment (derated to 150 PSI). The top flange conforms to ISO 5211 standards for direct mounting of any type of manual, hydraulic, pneumatic, or electric actuators. A full range of accessory items are available including limit switches, solenoid valves, positioners and manual override devices.
Standardization
A well-suited Butterfly Valve for applications that are developed in multiple markets worldwide, the ST Series meets the following world standards: ISO 5211, MS-SP67 / API 609, API 598 and BS5155, ISO5752 & DIN 3202K1.
The Assured Automation ST Butterfly Valve has been used successfully in many industrial applications, including refineries, petrochemical, chemical process equipment, process control applications, water and waste applications and pipeline applications.
ST Butterfly Valve Featured Applications
At a major food and beverage manufacturing plant that has been charged with operational performance as a corporate priority, the Assured Automation ST Butterfly valves provide the critical components in distributing chilled water to maintain its high production demands. The valves are used in the cooling water intakes, cooling tower isolation, and main water distribution trunk lines. The valves are selected primarily for their light weight, as well as their ease of use. Those who require automation will find that the actuator is directly mounted to the valve utilizing the ISO 5211 valve mounting pad. This keeps the assembly compact for ease of installation. The durable seat is designed for maintenance-free operation. Ease of use, low material and installation cost, combined with a compact design allows the manufacturer to use the valve extensively throughout its entire cooling system.
For More Information
More information on the Assured Automation ST Series Resilient Seated Butterfly Valve can be found at: