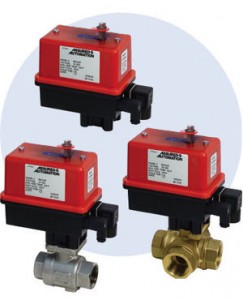 At last process engineers and plant managers can actuate their valves quickly and effortlessly, taking advantage of Assured Automation's newest RM-150 electric actuator's external wiring, to build "plug and play" solutions. The RM-150 is equipped with external DIN connectors for easy wiring. No longer do engineers need to open the actuator cover, risking exposing the actuator's internal components to the elements, when assembling flow applications. Pre-wired power cords are also available.
The RM-150 actuator delivers 150 in-lbs of torque, enabling it to open or close valves under high pressure. It is ideally suited for turning quarter turn ball valves from 1/4″ to 1-1/2″. The motorized actuator's permanently lubricated, hardened steel gear drive, and its completely weatherproof factory sealed enclosed, compact package, eliminates maintenance.
Operating the RM-150 Electric Actuator
The manual override is connected directly to the output shaft and the position indicator is located at the top of the actuator. The motor is a permanent split capacitor type (PSC). Its automatic re-setting thermal protector will shut down the unit if it is excessively stroked in a high temperature environment.
Features of the RM-150 Electric Actuator
External wiring connectors
Compact design
Direct mounting to valve, ISO5211
Manual override
Thermally protected motor
NEMA-4 Weatherproof enclosure
Hardened steel gearing
Self-lubricating shaft bearings
Factory sealed gearbox
Position Indicator
2 SPDT Limit Switches for Position Feedback
Materials
Mounting/Shaft: Zinc plated steel
Cover: Composite, PVC
Base: Diecast Zinc Alloy
Base Finish: Powder Coated Epoxy
Specifications
Temperature Range: -4 to +150°F
Enclosure: NEMA-4, weatherproof
Electrical Connection: External DIN connectors
Duty Cycle: AC Units: 25%, DC Units:100%
Lubrication: Permanently lubricated gear train and bearings
Mounting/Shaft: ISO 5211/Female
RM 150 Electric Featured Applications
The RM-150 actuator is used successfully in both commercial and residential applications. For example, it performs well in rugged oil industry applications. Selected for its compact size, the RM-150 actuates pumps to drain depleted oil wells assembled on a mobile skid platform that travels across different well sites.
For residential applications, its compact size and low cost allows automatic water shut-off systems to be built and installed conveniently between the studs in walls of houses. Electronically operated water shut-off valve systems use the RM-150 actuators to protect buildings from water damage caused by leaking or broken pipes, hoses from washing machines, ice makers, toilets, water heaters, providing a simple, inexpensive precaution that can avert potentially thousands of dollars in damages.
For More Information
More information on the Assured Automation RM-150 Actuator can be found at:
Tel: 800-899-0553 or 732-381-2255
Fax: 732-381-2328
Email: info@assuredautomation.com