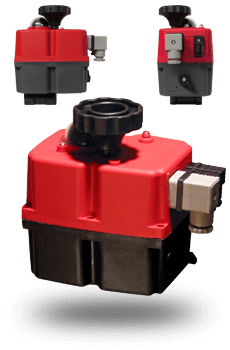 JJ electric actuators have been a favorite in the industry for many years. They have made improvements over the years which has lead to some confusion over the part numbers. At Assured Automation, we sell these actuators as the S4 Series. Below is a cross-reference for the J & J part numbers, old and new, and the Assured Automation equivalent.
For complete information on the S4 Series of J+J actuators, visit our S4 series INFO page. To purchase an actuator visit the S4 series BUY page.
Click on any of the part numbers below to link to the BUY page with that model selected.
J2 Series
JJ part number
Voltage
Torque
AA part number
(obsolete exact match)
AA Part Number
(closest current match)
J2L-10
24 VAC/DC
88 in-lb. (10 Nm)
N/A
S40170UV19
J2L-140
24 VAC/DC
1239 in-lb. (140 Nm)
N/A
S41200UV19
J2L-300
24 VAC/DC
2655 in-lb. (300 Nm)
N/A
S42600UV19

---

J2H-10
85 to 240 VAC/DC
88 in-lb. (10 Nm)
N/A
S40170UV19
J2H-140
85 to 240 VAC/DC
1239 in-lb. (140 Nm)
N/A
S41200UV19
J2H-300
85 to 240 VAC/DC
2655 in-lb. (300 Nm)
N/A
S42600UV19
J3 Series (red diagnostic LED indicators added)
JJ part number
Voltage
Torque
AA part number
(obsolete exact match)
AA Part Number
(closest current match)
J3-L20
12 to 24 VAC/DC
177 in-lb. (20 Nm)
S40170MV1
S40170UV19
J3-L35
12 to 24 VAC/DC
309 in-lb. (35 Nm)
S40300MV1
S40300UV19
J3-L55
12 to 24 VAC/DC
486 in-lb. (55 Nm)
S40480MV1
S40480UV19
J3-L85
12 to 24 VAC/DC
752 in-lb. (85 Nm)
S40750MV1
S40750UV19
J3-L140
12 to 24 VAC/DC
1239 in-lb. (140 Nm)
S41200MV1
S41200UV19
J3-L300
12 to 24 VAC/DC
2655 in-lb. (300 Nm)
S42600MV1
S42600UV19

---

J3-H20
85 to 240 VAC/DC
177 in-lb. (20 Nm)
S40170MV2
S40170UV19
J3-H35
85 to 240 VAC/DC
309 in-lb. (35 Nm)
S40300MV2
S40300UV19
J3-H55
85 to 240 VAC/DC
486 in-lb. (55 Nm)
S40480MV2
S40480UV19
J3-H85
85 to 240 VAC/DC
752 in-lb. (85 Nm)
S40750MV2
S40750UV19
J3-H140
85 to 240 VAC/DC
1239 in-lb. (140 Nm)
S41200MV2
S41200UV19
J3-H300
85 to 240 VAC/DC
2655 in-lb. (300 Nm)
S42600MV2
S42600UV19
J3C Series (multi-colored diagnostic LED indicators added)
JJ part number
Voltage
Torque
AA part number
(obsolete exact match)
AA Part Number
(closest current match)
J3C-L140
24 VAC/DC
1239 in-lb. (140 Nm)
S41200MV2
S41200UV19
J3C-L300
24 VAC/DC
2655 in-lb. (300 Nm)
S42600MV2
S42600UV19

---

J3C-H140
85 to 240 VAC/DC
1239 in-lb. (140 Nm)
S41200MV2
S41200UV19
J3C-H300
85 to 240 VAC/DC
2655 in-lb. (300 Nm)
S42600MV2
S42600UV19
J3CS Series (Universal Voltage replaces High Voltage and Low Voltage becomes 12 VAC/DC only)
JJ part number
Voltage
Torque
AA part number
(obsolete exact match)
AA Part Number
(closest current match)
J3CS-B20
12 VAC/DC
177 in-lb. (20 Nm)
S40170MV1
S40170-12VAC/DC
J3CS-B35
12 VAC/DC
309 in-lb. (35 Nm)
S40300MV1
S40300-12VAC/DC
J3CS-B55
12 VAC/DC
486 in-lb. (55 Nm)
S40480MV1
S40480-12VAC/DC
J3CS-B85
12 VAC/DC
752 in-lb. (85 Nm)
S40750MV1
S40750-12VAC/DC

---

J3CS-S20
24 to 240 VAC/DC
177 in-lb. (20 Nm)
S40170MV2
S40170UV19
J3CS-S35
24 to 240 VAC/DC
309 in-lb. (35 Nm)
S40300MV2
S40300UV19
J3CS-S55
24 to 240 VAC/DC
486 in-lb. (55 Nm)
S40480MV2
S40480UV19
J3CS-S85
24 to 240 VAC/DC
752 in-lb. (85 Nm)
S40750MV2
S40750UV19
J4C Series (Larger sizes become available as Universal Voltage)
JJ part number
Voltage
Torque
AA Part Number
(closest current match)
AA Part Number
(closest current match)
J4C-S20
24 to 240 VAC/DC
177 in-lb. (20 Nm)
S40170UV19
S40170UV19
J4C-S35
24 to 240 VAC/DC
309 in-lb. (35 Nm)
S40300UV19
S40300UV19
J4C-S55
24 to 240 VAC/DC
486 in-lb. (55 Nm)
S40480UV19
S40480UV19
J4C-S85
24 to 240 VAC/DC
752 in-lb. (85 Nm)
S40750UV19
S40750UV19
J4C-S140
24 to 240 VAC/DC
1239 in-lb. (140 Nm)
S41200UV19
S41200UV19
J4C-S300
24 to 240 VAC/DC
2655 in-lb. (300 Nm)
S42600UV19
S42600UV19

---

J4C-B20
12 VAC/DC
177 in-lb. (20 Nm)
S40170-12VAC/DC
S40170-12VAC/DC
J4C-B35
12 VAC/DC
309 in-lb. (35 Nm)
S40300-12VAC/DC
S40300-12VAC/DC
J4C-B55
12 VAC/DC
486 in-lb. (55 Nm)
S40480-12VAC/DC
S40480-12VAC/DC
J4C-B85
12 VAC/DC
752 in-lb. (85 Nm)
S40750-12VAC/DC
S40750-12VAC/DC
J4C-B140
12 VAC/DC
1239 in-lb. (140 Nm)
S41200-12VAC/DC
S41200-12VAC/DC
J4C-B300
12 VAC/DC
2655 in-lb. (300 Nm)
S42600-12VAC/DC
S42600-12VAC/DC