In order to satisfy the increasing demand for product inventory, Assured Automation has acquired two new vertical carousel shelving units to boost inventory levels in Clark, NJ. These automated shelving carousels are designed and engineered to increase productivity.  These units are comprised of multi-purpose shelves which are attached to continuous chains and are moved to an access port via computer control.  One unit has 14 shelves and a load capacity of 4200lbs.  This will house electric actuators and limit switches. The other unit will house over 1000 VA Series Automated valves and has a load capacity of 8400lbs.  These units free up floor space while streamlining the order fulfillment process.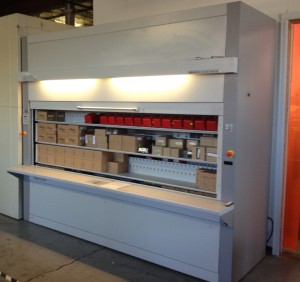 Bill Farrell, President of Assured Automation, commented, "These carousels are truly space saving and have freed up over 500 feet of shelving, allowing us to purchase additional inventory. Assured Automation's goal is to provide the best possible service to every customer we serve and to continuously look for creative ways to improve our processes.  In adding these automated continuous shelving systems we are adding the newest technology to allow us to grow in the future."    
Thank you for viewing.
From your friends at Assured Automation
assuredautomation.com
For any other questions contact us online or call toll free at
1-800-899-0553.