The global demand for cannabidiol (CBD) oil has been projected to grow from $900 million in 2020 to $5 billion by 2025. Currently the cosmetic and food industry segments accounts for more than half of the market but over the next few years the pharmaceutical segment is expected to expand significantly.
With this increased demand for CBD production there is also an increased need for industrial products used in the growing of hemp and marijuana and the extraction of CBD oil.
With unparalleled customer service, Assured Automation provides high quality valves and flow meters for use in water, steam and process applications throughout the botanicals industry.
Our capabilities extend far beyond standard valves. In fact, a large portion of our business comes from custom assemblies and large projects in this and other industries.
View the products below or check out our new web page dedicated to the products most purchased by customers in the CBD industry.
Automated & Manual Valves
Stainless Steel Valves
Assured Automation offers automated and manual stainless steel valves and flow meters that are frequently used is Ethanol and CO2 extraction applications.
21 Series ball valves are full port, 316 stainless steel, NPT threaded manual ball valves. The valves are silicone free and equipped with a manual handle with a locking device.
36 Series ball valve is constructed of 316 stainless steel. The superior stem seal of this 3-piece ball valve provides increased cycle life making it the perfect choice for automated valve package designs. The Teflon stem packing is live loaded with Belleville washers to provide constant tension on the stem seals. This ensures a bubble tight stem seal and increases the life cycle of the seal even in high cycle applications. Successfully used by OEM's of Ethanol Cannabis Extraction Equipment.
30D Series 3-way sanitary ball valve is a full bore tri-clamp valve with cavity filled teflon seats. This valve is ideal for use in botanical extraction and other clean service applications. Constructed of ASTM 316 stainless steel with sanitary tri-clamp end connections. Sizes available in ½" through 4".
Assured Automation 3-way ball valves have been used extensively in supercritical CO2 extraction systems.
BFY Series Tri-Clamp Sanitary Butterfly Valve meets all FDA & USDA standards and requirements. 316L mirror finish disc provides an even flow preventing obstructions and restrictions. An "opposing" body bolt design prevents the loosening between body sections due to usage or vibrations. Bolting is flush with body surface preventing obstruction during actuation or when space is limited for installation.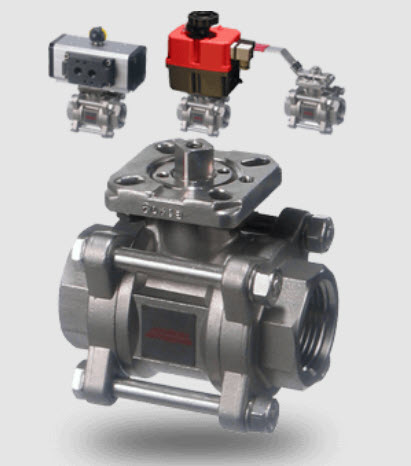 PVC Valves
PVC (Polyvinyl Chloride) offers an erosion and corrosion resistant material suitable for a variety of industrial valve uses. CPVC (Chlorinated Polyvinyl Chloride) is a variant of PVC that is more flexible and can withstand higher temperatures.
Both PVC and CPVC are lightweight rugged materials that are rust-proof, making them perfect for use in many water applications.
P2 Series 2 way ball valves offer some unique features over standard PVC valves. The patented dual block system locks the union ends, which prevents them from loosening due to vibration. This is a common problem with other PVC valves and often results in leakages. The P2 also features a dual stem seal making this design optimal for valve actuation.
PTP Series three-way PVC ball valve for flow diverting, mixing or on/off isolation applications. The PTP series will replace a Tee +2 valve linkage assembly at reduced cost and space, along with shorter installation and maintenance time. The patented seat stop carrier allows for in-line micro adjustment of the ball seating and features O-ring cushioning to minimize wear and prevent seizing.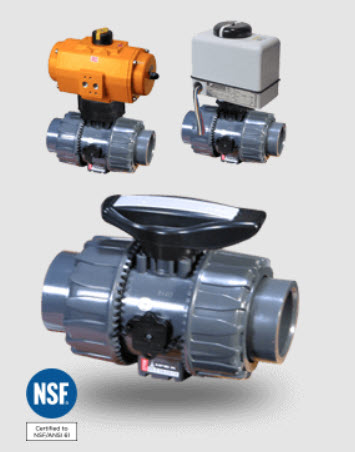 Flow Meters
Assured Automation carries a comprehensive collection of meters to satisfy the majority of applications that our valve customers use. From simple multi-jet mechanical water meters to high-pressure industrial digital flow meters we offer meters in a range of materials, connection types, and sizes.
Digital Flow Meter
G2 Industrial flow meter is available with NPT or tri-clamp ends for easy installation and removal. Constructed of 316 Stainless steel housing in line sizes of 1/2" to 2" NPT and ¾" to 2 ½" tri-clamp. The easy to read display can be mounted in different orientations depending on piping layout. Flow ranges of 1-200 gpm with an accuracy of 1-2% (depending on size) Available with local or remote displays.
Mechanical Flow Meter
Offered in sizes ½" to 1 ½" NPT , WM-PC impeller style water meter is designed to meet Federal regulations requiring all products coming in contact with potable water be lead free. Designed to meet AWWA C708 standards.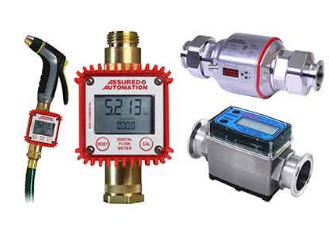 Batching System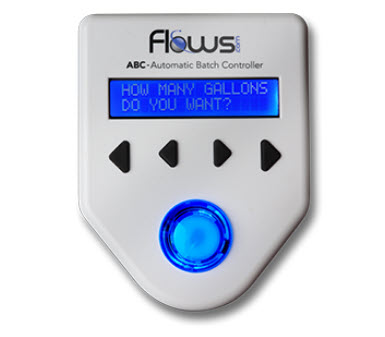 The new ABC-2020 Automatic Batch Controller from Flows.com is a simple, low-cost batch controller that is extremely easy to use. It can be used with a valve and/or pump and a simple mechanical water meter. This allows growers to use exactly the right amount of water regardless of any changes in system water pressure which would affect the volume if using a timer. Growers also use the ABC batch controller when making nutrient mixes in tanks or IBC totes.
You can count on us!
Customers have come to rely on Assured Automation for high quality products, knowledgeable sales personnel, and the unique online automated valve configurator. The online valve configurator makes building, quoting and ordering valve assemblies quick and easy. Try one out today!
Related Articles: Low-cost Easy to Use Batch Controller