According to the National Oceanic and Atmospheric Administration (NOAA) the cautionary response for Liquid Natural Gas (LNG) fire situations is to stop discharge, if possible.1Responses to LNG related fires need to be automatic and quick.
Automatic Fire Safety Shutoff Valve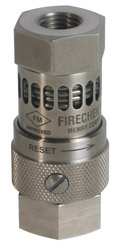 For quick, automatic shutoffs, refineries, manufacturers of cryogenic transfer trailers, chemical, petrochemical, semiconductor industries and other manufacturing processors have used FireChek® successfully for years. The FireChek® is a heat-actuated emergency shutoff for flammable liquid equipment and for gas. The FireChek® safety mechanism is used in air lines on control valves with pneumatic actuators to provide emergency shutdown in case of fire.
The FireChek® is FM approved* for Fire Protection for both flammable liquid equipment and for flammable gas equipment. FM approved products are designed to provide sound loss prevention solutions that safeguard against loss. And plant safety personnel can conduct routine safety tests of FireChek thermal shutoffs without replacing components.
When FireChek® senses excessive heat from a nearby fire, it immediately vents the pneumatic actuator and closes the actuator air supply line. FireChek® triggers quickly, securing pneumatically operated process line valves. Because FireChek® responds to heat — not flame –it dramatically improves protection compared with conventional plastic tubing burn-through.
The FireChek thermal response is generated by a proprietary Nitinol shape memory alloy technology, originally developed for NASA space station applications. The Shape Memory Effect changes certain metal alloys from one shape to another with temperature changes, a direct result of a transformation of the alloy's crystal structure.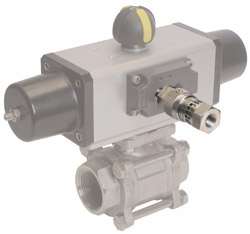 If FireChek® senses temperatures above the shape memory alloy's actuation temperature; the shape memory element simultaneously vents pneumatic actuator air pressure and closes upstream supply pressure. FireChek's® manual reset allows routine performance testing for safety maintenance programs.
The online video demonstrates how a hot-air gun can quickly actuate the FireChek®. After cooling briefly, the FireChek® can easily be reset without the use of tools, for continued protection.
The shape memory element senses the ambient temperature and, through a phase induction change, rapidly produces the force and motion to operate FireChek®.
The element is 100% reliable because the shape memory effect is intrinsic to the alloy. "Shape memory alloys have performed successfully for years in military, industrial, and consumer product manufacturing in addition to NASA's space station applications," reports Bill Farrell, president of Assured Automation. "Our customers spec these automatic safety devices for both flammable liquid and gas applications, and have had good experience with them for many years," he adds.
FireChek® Features:
Rapidly responds to temperature rise, NOT flames
Vents actuator air pressure
Closes actuator air supply line
Needs no power source, self-activates
Compatible with ALL pneumatic actuators
No contact with process fluids
Easy to test and reset
Reliable, intrinsic triggering
Easily retrofit, installs in minutes
FireChek® is made in the USA
Visit the FireChek product page or call now for additional information:
/firechek/
1-800-899-0553
*FM Approval through Memry Corp
1Sources: http://cameochemicals.noaa.gov/chris/LNG.pdf