Assured Automation Butterfly Valve Assembly Enables Air Cannon To Reach New Heights
Problem:
A local college was designing an air cannon to launch pumpkins for their engineering class project. They were looking for a large diameter valve with a fast acting actuator to provide the air capacity they needed.
Solution:
Assured Automation was contacted to help find a solution to their Pumpkin Chunkin valve assembly requirements. The sales engineer suggested an ST Series Butterfly Valve with an F Series pneumatic actuator.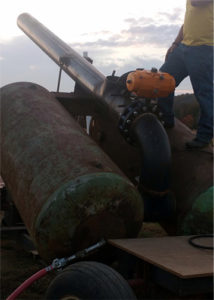 The ST Series butterfly valve allows the air stored in the reservoirs to exhaust quickly. This valve features a stainless steel disc and stem and is able to withstand higher pressures and continuous actuation.
The F Series rack and pinion actuator provides fast quarter turn operation to cycle the valve quickly. The light weight aluminum body helps reduce the load on their system and the corrosion resistant polyurethane coating keeps the unit looking brand new even in harsh environments.
The students tested the Assured Automation assembly and it performed perfectly for their quick exhaust design. They competed in a local Pumpkin Chunkin contest and impressed the crowd with their explosive launch!
Product Information:
The ST Series is a resilient seated 125/150, ductile iron wafer style or lug style butterfly valve available with BUNA-N or EPDM seats and a choice of disc materials. Wafer Flange available in 2-12″ line sizes. Lugged Flange 2-24″. It can be equipped with a manual handle or with pneumatic or electric actuators. View ST Lug Style Data Sheet, View ST Wafer Style Series Data Sheet
F Series pneumatic actuators offer a simple and cost effective solution for your valve automation needs. Tested to 1,000,000 cycles this actuator is for use on quarter turn (90 degree) ball valves, plug valves, dampers, and resilient seated butterfly valves. Housing material is chromated aluminum with dual component polyurethane coating. High grade aluminum mounting and shaft. View F Series Data Sheet