Plastic Water Meters Good Alternative to Brass Meters Prone To Theft
The price of scrap metal is on the rise and a scary trend is being seen throughout the US. Individuals are ransacking businesses and vacant homes stealing copper and brass fixtures to sell for scrap.
After a 2012 theft of brass water meters valued at $75,000, District General Manager Doug Johnsen of Valley Center, CA commented, "High prices on copper and brass are sparking a local crime spree as would-be metal merchants rip off water meters and backflow devices."
This is not an isolated incidence, in April of this year an investigator at a scrap yard in San Antonio, TX discovered the sale of a large number of new and used brass water meters and meter parts. Upon closer inspection it was determined that a couple had been stealing meters from the San Antonio Water System over a period of 8 years and was selling them as scrap.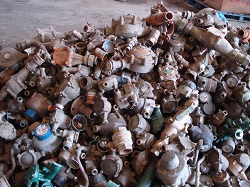 April 1, 2015 News 4 San Antonio- A husband and wife have been arrested in connection with a massive theft of brass parts from the San Antonio Water System. Investigators say 34-year-old Albino Ortiz was working for SAWS and had access to brass water meters and other brass parts when he and his wife apparently sold the parts to a metal recycler. A state investigator says Ortiz's wife, Maria, sold more than 10,000 pounds of brass meters.
Due to incidences like these and new lead free laws for drinking water, plastic water meter sales have seen a big boost. According to Mike Farrell, VP Sales Assured Automation, he's seen a huge increase in the number of sales and inquiries of the Assured Automation WM-PC plastic water meter series.
The WM-PC is constructed of a fiber reinforced polymer material that doesn't have scrap value, but does make for a durable AND economical option for water meter users. This meter has proven itself to be as effective as its brass counterparts.~ Mike Farrell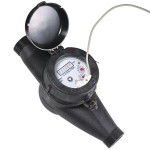 The WM-PC impeller style water meter is offered in sizes from ½" to 1 ½" NPT and is designed to meet Federal regulations requiring all products coming in contact with potable water be lead free and is also designed to meet AWWA C708 standards.
Typical uses include metering and sub-metering applications in residential and commercial environments. A pulse output is available which would allow data to be read at a remote location, a great feature when the meter is placed in a tight or inaccessible area.
The WM-PC water meter is an inexpensive option for water meter users when you consider the problems associated with the theft of a brass meter; the water damage to your property and the expense of replacing and protecting a new meter. The WM-PC just may be the most economical solution to an unforeseen problem.
Related Articles:
New Lead Free Water Meter-WM-PC Series Economy Plastic Water Meter Ideal for Metering and Sub-Metering
Avoid California Water Surcharge Penalty-California Imposes Stringent Water Restrictions as Severe Drought Persists
Garden Hose Water Meters- Mechanical and Digital Flow Meters for Use with a Garden Hose-VIDEO