Two Butterfly Valve Series For Superior Strength and Chemical Resistance in Highly Corrosive Environments
The first is the FK Polypropylene Butterfly Valve Series, which offers superior strength and chemical resistance in highly corrosive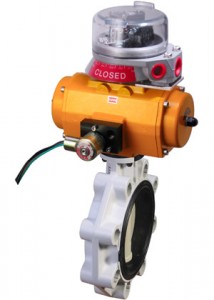 environments. The special trapezoid shape of the liner and a serrated body cavity guarantee a bubble tight seal while keeping break-away torque at an absolute minimum. This versatile industrial valve features double self lubricating seals and direct mount actuator capability. These valves are available in line sizes of 1 1/2″ through 12″ with Wafer or Lugged flanged end connections.
The second is the FE PVC Series Butterfly Valve, which incorporates many of the features of the industrial FK Valve. The FE Series offers all PVC construction with EPDM seat, which makes this valve a perfect choice for water and light industrial applications.
Assured Automation's FK/FE Butterfly Valves have been used successfully in many industrial applications, including industrial process piping systems, acid waste systems, high purity systems as well as plumbing and mechanical pipe systems.
FK/FE Series Butterfly Valve Featured Application
A major soft drink processing plant was seeking to improve the service life and sealing capabilities of the butterfly valves in their water treatment plant. They were using a major manufacturer of resilient seat butterfly valves with ductile iron bodies. The constant exposure to acid and caustic fumes quickly eroded the ductile iron valves, creating a safety issue. These ductile iron valves were replaced every few years. The plant decided to replace the resilient seat butterfly valves with the FK Series butterfly. The valves' polypropylene body looks brand new after three years of service and the superior body sealing has provided the service life they needed. The maintenance costs were reduced significantly and plant safety has been improved.
For More Information
More information on the Assured Automation FK Series Plastic Butterfly Valves can be found at:
More information on the Assured Automation FE Series PVC Butterfly Valves can be found at: