Assured Automation's 33D Series Full Port, 3 way stainless steel ball valves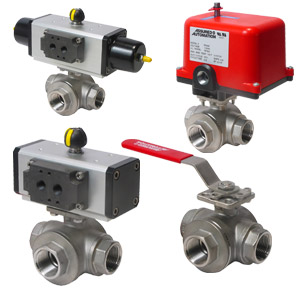 Full Port for unrestricted flow
Blow-out proof stem
Live-loaded Pyramidal stem seal design
Integrated mounting pad for actuators
Compact assembly
Complete line of accessories
Available Actuators: Electric, Pneumatic (spring return), Pneumatic (double acting), Manual Handle
Quick, Easy and Accurate Order Specifications
When purchasing 3-way stainless steel ball valves engineers use Assured Automation's online configurator to quickly and accurately select the valve assembly that meets their unique needs. The configurator allows them to specify and verify port arrangements for "L Port" and "T Port" valves.
For example, to select a "T Port" valve configuration, buyers select one of the five flow plans from a visual cross-section diagram, eliminating flow path surprises and problems when the valve is installed.
Assured Automation's 33D Series full port, 3-way ball valves are made from 316 stainless steel and are equipped with NPT threaded (1/4″ to 2″) ends. The 33D Series can be equipped with a manual handle or with direct mount pneumatic or electric actuators. The direct mount actuators eliminate the valve-actuator mounting kit, which adds unnecessary height and expense. A full range of accessory items are available including limit switches, solenoid valves, positioners and manual override devices.
Specifications
Material: Body, Ball, & Stem – 316SS
Seats – RPTFE
Stem Seals – PTFE, Viton® or RPTFE
End Connections: NPT Threaded (1/4″ to 2″)
Temperature Range: -20 to 400°F
Max. Pressure: 800 PSIG
Typical Applications
The 33D Series Ball Valves are used in applications that require managing higher pressure flow from three sources where complete shut-off is and reliable performance is required, such as:
Air Drying Equipment
Sterilizers
Autoclaves
Pollution Control Equipment
Process Control Applications
Laundry Equipment
Textile Dyeing & Drying
Bottling & Dispensing Equipment
Ink & Paint Dispensing
For More Information
More information on the Assured Automation Angle Valve can be found at: