Whether you run a full-scale brewery or have a home brew setup, selecting, quoting and ordering flow meters quickly and easily is of paramount importance.
How many times have you called a company for a quote and had to wait days for the salesperson to get back to you, only then to encounter further delays in ordering the product?
Assured Automation offers meter selection guides and unique interactive online flow meter Configurators to assist in the proper selection, pricing, and ordering of flow meters …all online!
User friendly selection guides compare range of materials, connection types, and flow ranges in an easy visual manner to direct the users choice. Options are available from basic models to more advanced industrial grade flow meters with greater number of functions and accessories.
Clickable links on the selection guide take the buyer to the chosen meter's configurator page. This is where the meter is "built". As connection type and meter sizes are selected all available options and accessories are displayed on screen. Price, description, and part number all update instantly.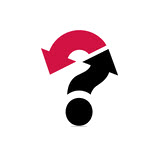 Online help is available throughout the selection process. Simply click on the black and red "Help Icon". The 'Configurator Help Screen' appears which offers clarification and guidance in the selection process
Under the Links for Model section, pricing, weight and documentation including datasheets, price lists and installation & maintenance manuals are available for download.

Want to share the meter part number and parameters with a colleague or purchasing department? Simply click on the 'Share this Configuration' icon to easily email Item number along with flow rate range, connection size and type, wetted materials, and other pertinent details
We know that the Assured Automation configurators make the quoting and ordering of flow meters exceptionally easy but there are always instances when additional assistance is needed. Our product specialists would be happy to assist via phone or chat regarding applications and product choice. Give us a call at 800-899-0553
Try a flow meter configurator today!
How to Use Flow Meter Configurators
Step 1: Choose Flow Meter From Selection Guide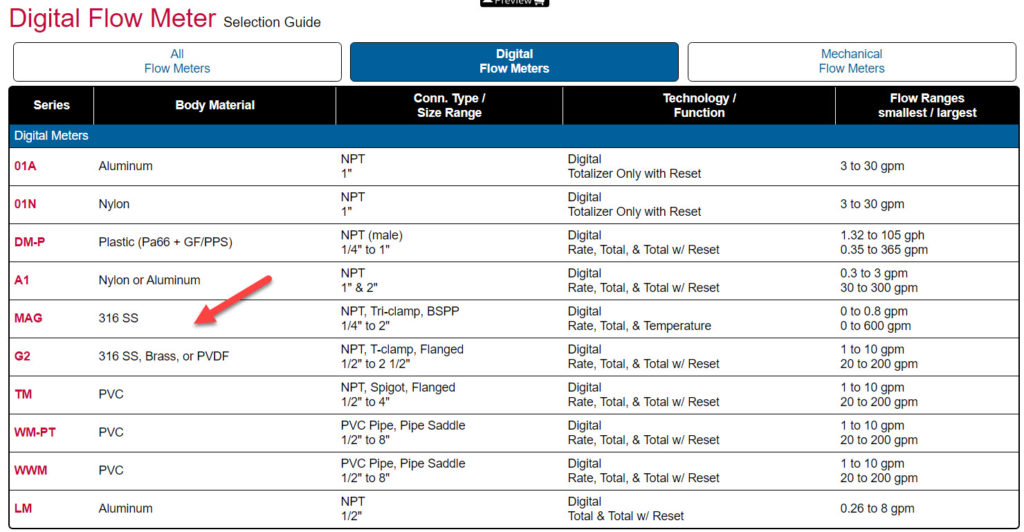 Start your product selection with one the Flow Meter Selection Guides
The Digital Flow Meter Selection Guide compares body materials, connection, function type and flow ranges
Choose the meter that best meets your application needs
Step 2: Select the Buy Button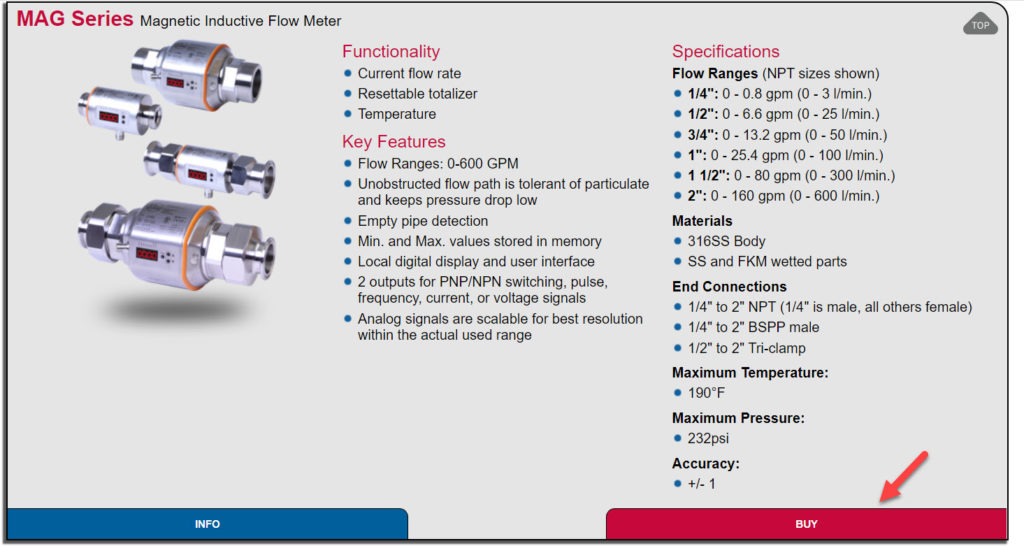 After selecting the meter click the "Buy" button to view the product Configurator
Step 3: Choose Connection Type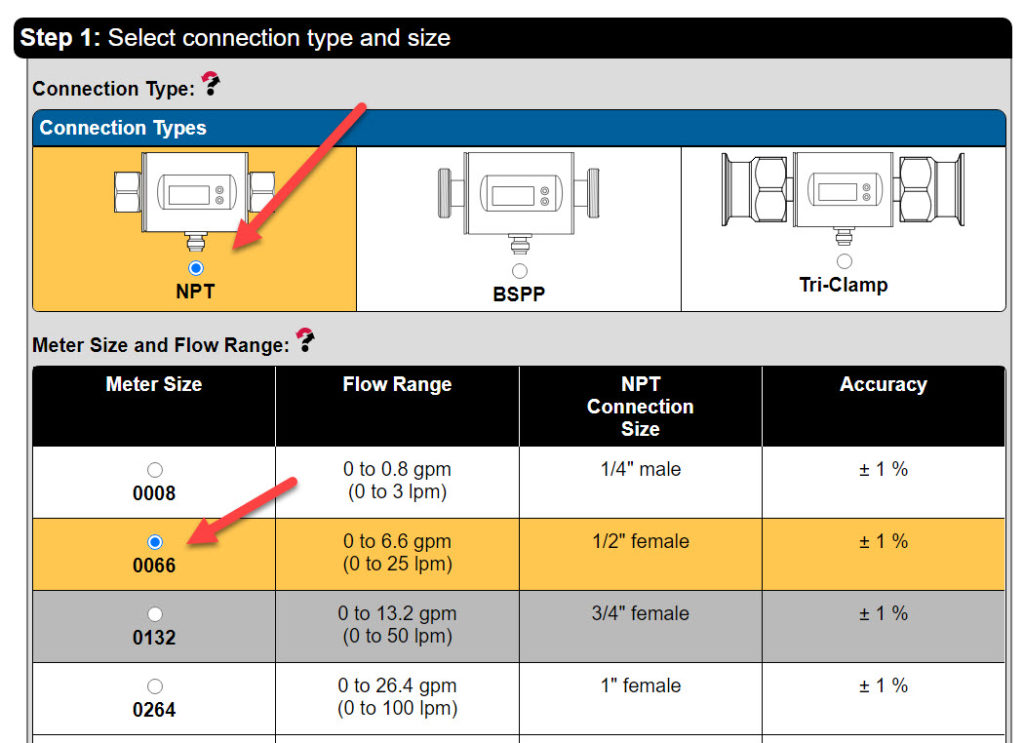 Start by choosing desired flow meter connection type
Then choose meter size based on the flow range, connection and accuracy needed
Step 4: Select Output Type and Accessories
Photo, part number, description and price all update instantly as you configure your meter.
If you are looking to quote more than one configuration, add your configured meter to your cart by clicking the 'Add to Cart' button.
After loading the meter to your cart, you can navigate to any other page on the Assured Automation website and proceed to checkout when you are ready.
By selecting View Cart, you can choose to print, email, or save your quote – or you can proceed to complete the purchase.
Shipping weights, datasheets, Installation & Maintenance manuals are all available for download.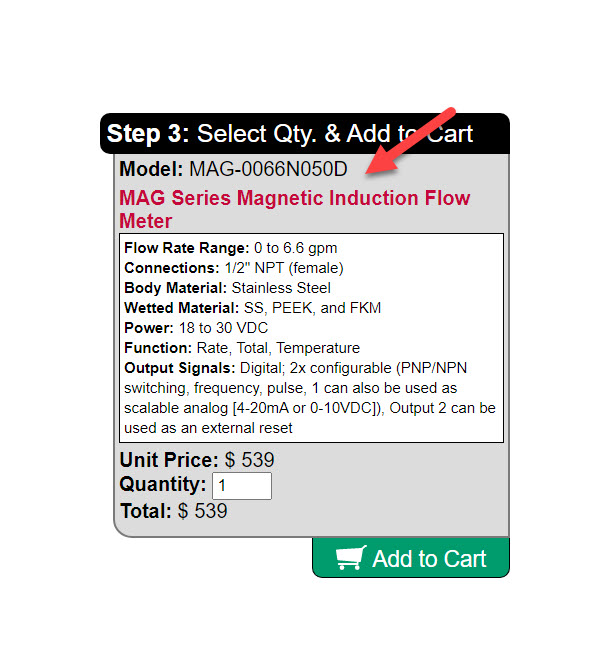 Related Article: Valves for Craft Brewing Applications
One of the ways "We Make Valve Automation Easy" is by providing our customers with interactive online configurators. . Nothing to download or install. No special specification apps. Visit our web site to see how they work and try one today.
---
View the "Automated Valve Configurator" video