While overall beer sales have remained flat in the US over the past two years, the craft beer industry has risen from 10% of the 2012 beer market and is predicted to capture 20% by the end of 2014. Craft brewers are small, independent brewers who use traditional brewing ingredients and typically impart their own style through unique ingredients which give their brew a distinct flavor profile.
It seems that even professional golfers are "taking a swing "at the craft beer industry. PGA golfers Freddie Jacobson, Keegan Bradley and Graeme McDowell launched GolfBeerBrewing Company which will offer refreshing craft beers with flavor profiles that favor their own distinct tastes. Freddie Jacobson's Scandinavian Style Blonde Ale, Keegan Bradley's New England Style Lager and G-Mac's Celtic Style Pale Ale will initially be available this month on draft at select Florida golf courses. The beer will be available in cans and bottles by the first quarter of 2015 and distribution is then expected to expand to grocery stores, bars and other restaurants in Florida.
Craft Beer brewing is an art form that utilizes microbiology, chemistry, engineering and mathematics – the perfect mix of these disciplines along with the proper equipment results in a consistent, high quality beer.
Leading craft beer manufacturers rely on Assured Automation's valves and flow meters to provide reliable performance with extended cycle life with minimal space requirements. Customers report that using Assured Automation products ensures product consistency and integrity.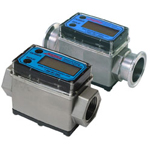 Assured Automation' s, made in the USA, G2 Industrial grade flow meter offers durable, compact, high precision fluid measurement. Meter easily installs either in-line or at the end of a hose. The large easy to read display and compact lightweight design makes it easy to handle. 316SS housing and sealed electronic circuitry provides years of durable use in almost any condition. Approximate Battery Life is 4,000 hours. Available in NPT or triclamp ends. Displays instantaneous flow rate and has two flow totalizers. One totalizer is resettable and can be zeroed after each batch, the other totalizer is cumulative. Ability to field calibrate.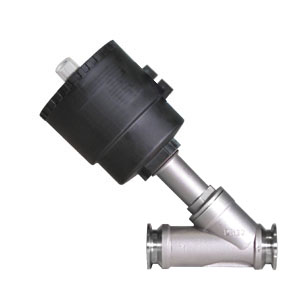 The Angle Seat Valve is a 2/2-way pneumatically actuated piston valve for liquids, gases and steam. The superior design of the piston is unique to the market, enabling the plug to retract farther from the flow path, ensuring the highest flow capacity. The dual packing design, and a large diameter self aligning stem insures the highest cycle life.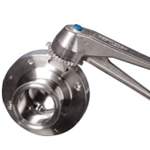 Our sanitary butterfly valve meets all 3-A, FDA & USDA standards and requirements. 316L mirror finish disc provides an even flow preventing obstructions and restrictions. An "opposing" body bolt design prevents the loosening between body sections due to usage or vibrations. Bolting is flush with body surface preventing obstruction during actuation or when space is limited for installation.
Tri-clamp and butt weld ends are standard, other options are available. Butterfly valves are ideal for the brewing industry as they have no cavities where product can become trapped.