Project Showcase : ST Series resilient seat pneumatic actuated butterfly valve ideally suited for water treatment applications.
Application:  A leading equipment manufacturer required resilient seat pneumatic actuated butterfly valve for a horizontal pressure filter system.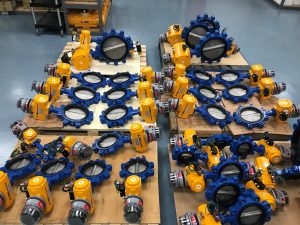 | | |
| --- | --- |
| Customer Type | Manufacturer of  Water Treatment Equipment |
| Application | Horizontal Pressure Filters |
| Valve Series | ST Series Lug Style Resilient Seated Butterfly Valve |
| Actuator Series | F Series Rack & Pinion Pneumatic Valve Actuator |
| Valve Size | 6″-12″ |
| # of Valves | 35 |
| Sales Person | Vinnie C. |
| Valve Assembly Technician | Dan R. |
A leading manufacturer of water and wastewater treatment equipment required a butterfly valve for a pre-treatment pressure filter fabrication.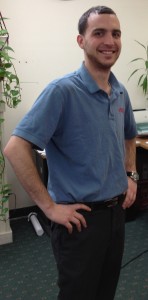 Pressure Filters are used to remove suspended particle, color and odor from water. Typical applications include: Clarifier Effluent Polishing, Cooling Tower Sidestream Filtration, Reverse Osmosis Pretreatment, Iron & Manganese Removal, Direct Filtration With or Without In-Line Coagulation.
Assured Automation product specialist, Vinnie Collier, recommended the  STL Series butterfly valve, F Series actuator, C Series solenoid and YO Series proximity limit switch for this pressure filter application.
Valve Series:  STL Series resilient seat 125/150 ductile iron lug style butterfly valve.
ST Series quarter turn resilient seated butterfly valves are ideal for demanding service applications. These reliable, low maintenance shut-off and control valves are available in 2"-24".
ST Series butterfly valves are designed for use in gas and liquid applications, to a maximum working pressure of 225psi. They are equipped to handle an operating temperature range of -22 degrees F to + 230 degrees F. ST Series offers an economical alternative to plug, gate, and ball valves.
Typical ST Series applications include:
Water and waste effluent treatment plants
Paper, textiles and sugar industry
Construction industry, and drilling production
Heating, air conditioning, and cooling water circulation
Pneumatic conveyors, and vacuum applications
Compressed air, gas and desulphurization plants
Brewing, distilling, and chemical process industry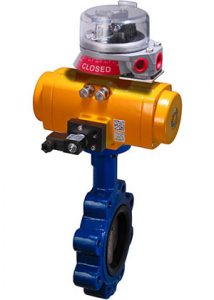 Actuator Series: F Series pneumatic valve actuator has less space requirements due to its compact design
The F Series compact double acting rack and pinion actuator has even torque output through the entire 90° rotation of the stroke offering a simple and cost effective automation solution.
Solenoid Series: C Series NAMUR solenoid valve features a high Cv to cycle the actuators quickly and features a manual override button to test the actuators.
Limit Switch Series: YO Series explosion proof limit switch features bright LED lights that coincide with the open/close indicator.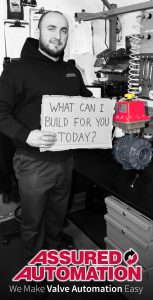 Dan Roszkowski was the assembly lead on this project which consisted of over 35 butterfly valve assemblies ranging from 6″ to 12″.
Dan's attention to detail was noted by the engineer inspecting the job for the water treatment equipment manufacturer.
The job was released for immediate shipment.