High Cycle-Life, Compact Automated Valves successfully used by Diaphragm Pump OEM
PROBLEM:
A pump manufacturer was designing an automated test stand to ensure their product performed to specification before shipment. They were seeking a high cycle valve that would be able to handle hundreds of cycles per day.
SOLUTION:
Assured Automation was contacted to help find a valve that would meet the requirements for the water lines on a low pressure and a high pressure test stand. The low pressure test system operated at 100 psi and the high pressure system, 400 psi.
Assured Automation proposed the VA valve and VAX valve for these applications.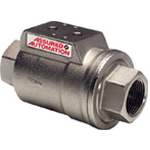 The VA valve is a fast acting, high cycle valve that can handle pressures up to 150psi. The compact design is ideal for the tight piping layout of the test stand. The low cost of the VA made it the right choice for the numerous valves required on the low pressure test stands.
The VA Series is available in brass with NPT or Metric threads, 3/8" to 2", vacuum to 150psi. The VA is pneumatically actuated.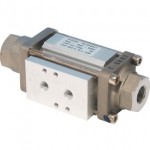 The VAX is also a fast acting, high cycle valve, but can handle much higher pressures-up to 600 psi. This solved the requirement for the high pressure pump stand.
The VAX Series is available with brass or stainless wetted parts, NPT threads, 3/8" to 1", vacuum to 600psi. Pneumatic or all Electric designs are available.
Both valves lasted over a million cycles and were an ideal choice for this customer.
"I have found that your valve works the best for directing the water flow to different areas in the test stations. We like the high flow of your valve and the robustness. We've had your valves in our test stations for over 2 years now and haven't had any issues."
Configure your VA Series or VAX Series Today!