Having a fire safety shutoff system in place is quite important at any facility which deals with flammable liquids or gasses. Whether processing or consuming flammable materials, safety is paramount. Fuel, toxic chemicals, or even oxygen lines can be susceptible if they are not stored, maintained, and transported properly.
Regardless of the hazardous material at a facility, Assured Automation offers a variety of valves and fire safety shutoff implements that can fit into any new or existing design. When designing or overhauling a system, two valve types produced by Assured Automation come to mind. Both the FM Fire-Safe Shutoff Valve and the Emergency Isolation Valve will suit the safety needs of any plant, big or small.
FM Fire-Safe Shutoff
The Assured Automation FM Fire-Safe Thermal and Electro-Thermal Emergency Shutdown Valve assemblies are constructed to automatically close or open and mitigate any conditions which could be deemed potentially dangerous. Both the ball valve and butterfly valve designs are Factory Mutual (FM) approved*. Thermal valves have thermal links which operate the valve at a predetermined temperature. The electro-thermal valve adds, like the name sounds, an electro-thermal link which can be triggered by a low power electrical current impulse, such as a smoke detector alarm. Both valve designs can also be operated manually without affecting the viability of the link.

The FM Fire-Safe valves are perfect when the flow of hazardous liquid or gas needs to be completely halted due to the presence of fire. The valves can also be implemented in fire suppression systems, to release fire retardant in an isolated area instead of the entire plant. Ball valve designs are available in sizes from ¼" to 4"; thermal activation temperatures from 165 to 500 degrees Fahrenheit; threaded, socket weld, butt weld, and flanged connection configurations; and a variety of metal alloys. Butterfly valves are available in sizes from 3" to 12"; thermal activation temperatures from 165 to 500 degrees Fahrenheit; and carbon steel or 316 stainless steel.
Emergency Isolation Valves
The Assured Automation Emergency Isolation Valve assemblies take the ease and simplicity of the fully functional FM Fire-Safe Shutoff and add an aspect of automation to the design. When combined with a FireChek heat-activated pneumatic shutoff, the emergency isolation valve can be used in both automated startup and shutdown sequences, as well as stop the flow of liquid or gas when an abnormally high temperature is detected.
The FireChek shutoff is actuated at one of three temperatures: 135 degrees, 150 degrees, or 165 degrees Fahrenheit. When the actuation temperature is reached, the shutoff closes the upstream supply pressure, and vents the pneumatic actuator air pressure. Because the FireChek uses a shape memory alloy, the actuation process is non-destructive. Without any parts to replace after each actuation, routine maintenance testing can be performed. When the shutoff is cooled, it can easily be reset without using any tools, and full scale production can continue. The FireChek is available in 1/4-18 NPT American Standard Tapered Pipe sizing, and is easily installed between the supply and spring return actuator making use of two female threaded connections.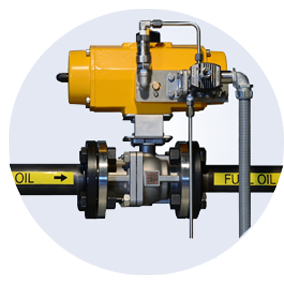 Using an emergency isolation valve in an existing pneumatic configuration is an easy retrofit. The emergency isolation valve has two different actuation designs: the double acting operates between 20 and 120 psi, and the spring return (which will close upon failure) operates between 40 and 120 psi. The corresponding ball valve is available in stainless steel or carbon steel, with flanged sizes from 1/2″ to 12″. There are two body construction types for the ball valve assembly, with the class 150 model able to withstand up to 275 psi, and class 300 model able to withstand up to 700 psi.
Considerations
When choosing the appropriate fire safety shutoff, it is important to consider the application for the shutoff. When remote control with startup or shutdown is desired, the Assured Automation Emergency Isolation Valve used in conjunction with a FireChek shutoff is the best choice. However, this requires an existing 1/4″ pneumatic supply, or a retrofit, and will not vent the supply line. When no process involvement is desired, the Assured Automation FM Fire-Safe Shutoff is the simplest way to stop the flow of hazardous liquids or gas if a fire is detected.
*FM Approval through Memry Corp