We frequently are asked to provide oxygen cleaning service to our valves such as the Assured Automation 26 Series Stainless Steel Ball Valves. Companies who build medical devices or work with compressed gas, in aerospace and defense need to comply with industry standards regarding oxygen safety and may require certified oxygen cleaned valves.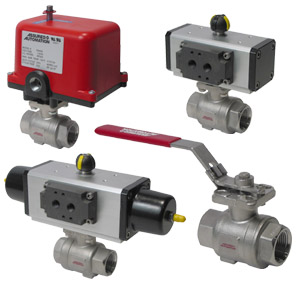 When our valves are cleaned for oxygen service, any combustible contaminates are cleansed and removed. These contaminates may include organic and inorganic substances such as hydrocarbon material i.e. oils and greases, paper, fiber, coal dust, solvents, weld slag, rust, sand and dirt. If these contaminates are not removed properly a combustion reaction in an oxygen atmosphere or unacceptable product purity are the result.
Assured Automation uses Cleveland Instruments, the leading oxygen cleaning service provider with over 45 years of experience, to provide our customers with the oxygen cleaning service to meet their requirements. When oxygen cleaned, our valves can be used in applications which require very high purity processes where residual or trace presence of NVR and VCM's are unacceptable. The valves are cleaned at Buffalo Gauge's NEBB (National Environmental Balancing Bureau) Certified Class 100,000 Clean Rooms to ensure proper cleaning and oxygen service certified.
The specification requirement for cleaning our valves is customer driven. A partial list of the specifications the valves can be cleaned to include:
Compressed Gas Association's CGA G 4.1
American Society for Testing and Materials International's ASTM – G93
National Fire Protection Association's NFPA 99
ANSI B 40
Mil Std 1330D
Mil Std 1246C (IEST-STD-CC1246D)
SAE 1176
Individual Customer Certifications including Praxair GS-38 (Certified By Praxair), Airgas, Air Liquide, Linde, Life Gas, BOC and NASA
Through our relationship with Buffalo Gauge, we can provide particle counts, and Non-Volatile Residue Testing (NVR).
Medical Applications for Valves Cleaned for Oxygen
The National Fire Protection Association's (NFPA) 99 Code, Health Care Facilities Code provides the standards for medical gas safety and vacuum systems for health care services or systems to minimize risk to patients, staff, and visitors in health care facilities. Medical gas systems may distribute oxygen, nitrous oxide, compressed air, carbon dioxide, and nitrogen.
Common Medical Gas Systems 1
Media
Primary Medical Use
Risk
Oxygen (O2)

Respiratory Therapy
Anesthesia

Materials that burn in air will burn more vigorously and at higher temperatures in oxygen-enriched atmospheres.
Nitrous Oxide (N2O)
Anesthesia
Oxygen is released under conditions of combustion, creating an oxygen-enriched atmosphere
Medical Air (MA)
Respiratory Therapy
Increases risk of fire when mixed with oxygen
Medical Vacuum (MV)
In patient surgery, recovery, and ICU to remove fluids and aid in drainage
Nitrogen (N2)
Powers instruments that may involve human respiration
Instrument Air (IA)
Powers instruments
Carbon Dioxide (CO2)
Surgical procedures and laboratory applications
Waste Anesthesia Gas Disposal (WAGD)
Captures and carry away gases vented from the patient breathing circuit during the normal operation of gas anesthesia or analgesia equipment
Aerospace Applications for Valves Cleaned for Oxygen
The SAE Aerospace Recommended Practice (ARP 1176) provides recommended practices for cleaning aircraft oxygen equipment. Aircraft oxygen equipment and ground-based equipment supporting aircraft oxygen equipment need to be cleansed of contaminants for safe oxygen use. Oxygen vigorously supports combustion and is reactive at ambient conditions. Its reactivity increases with increasing pressure, temperature, and concentration. Most materials, including metals and nonmetals, are flammable in high-pressure oxygen. Valves that are clean for oxygen use are designed to reduce or eliminate these ignition hazards.
Oxygen systems are kept clean because "organic compound contamination, such as hydrocarbon oil, can ignite easily and provide a kindling chain to ignite surrounding materials. Contamination can also consist of particles that could ignite or cause ignition when impacting other parts of the system." 2
How to Order Valves Cleaned for Oxygen Service
When ordering valves that require oxygen cleaning, be sure to include your special requirements in your order. When using the Assured Automation Online Configurators, select your valve, size, seat and stem seal material, the actuator type and materials and any accessories you wish. Add the configured assembly to your cart. When you view your cart you will be able to Add Notes to the order to specify that you want the valve to be certified for oxygen cleaned service. Or if you prefer, you can also call our customer service representatives to give them your valve specifications and special requests.
1http://www.azashe.org/docs/EdTinsleymedgasfinal.pdf
2http://www.hq.nasa.gov/office/codeq/doctree/canceled/1740151.pdf