April 19, 2020 – April 22, 2020
Location: Henry B. Gonzalez Convention Center San Antonio, TX
Assured Automation Booth: 3017

The Craft Brewers Conference (CBC) is America's largest craft brewing industry show serving both brewpubs and packaging breweries.
The Craft Brewers Conference and BrewExpo America® is presented by the Brewers Association, a recognized leader in the national and international brewing arena.
For professional brewers, CBC is the number one environment in North America for concentrated, affordable brewing education and idea sharing to improve brewery quality and performance. Fourteen educational tracks provide attendees with over 96 seminars led by top minds in the beer world.
Bringing together more than 13,000 attendees and 1000 Exhibitors, BrewExpo America® allows exhibitors and buyers to develop profitable business relationships and helps brewing professionals encounter the latest and best products and services that industry vendors have to offer.
Brewers of all sizes have come to rely on Assured Automation
Assured Automation has been providing manual and automated valves, actuators, flow meters and valve accessories to the brewing industry since 1983.
Brewers of all sizes have come to rely on Assured Automation for our quality products, expert service, and the ease of using our interactive online Valve Configurator to quickly specify valve assemblies.
Assured Automation automated valve assemblies, water meters and automatic batch controllers are used throughout the craft beer brewing process.
Valves and Meters for Brewing
Perfect for water lines, the P2 Series offers some unique features over standard PVC valves. The patented dual block system locks the union ends, which prevents loosening due to vibration, a common problem with other PVC valves that often results in leakages.
Typically used on steam lines the 36 Series ball valve is constructed of 316 stainless steel. The superior stem seal design of this 3-piece ball valve provides increased cycle life making it the perfect choice for automated valve package designs.
BFY Series Tri-Clamp Sanitary Butterfly Valves meets all 3-A, FDA & USDA standards. Opposing body bolt design prevents the loosening between body sections due to usage or vibrations. Bolting is flush with body surface preventing obstruction during actuation or when space is limited for installation.
Popular with keg washer manufacturers our angle seat valve is a high cycle-life, pneumatically actuated piston valve for liquids, gases and steam. The wetted parts are all stainless and Teflon. Over 5 million cycles achieved.
Made in the USA the G2 Industrial grade flow meter offers durable, compact, high precision fluid measurement. The G2 easily installs in-line or at the end of a hose. The large easy to read display and compact lightweight design makes it easy to handle. Available in NPT or triclamp ends.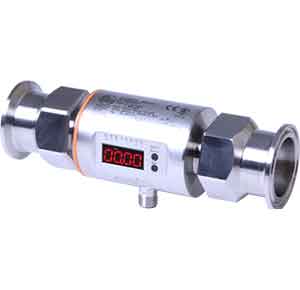 MAG series, magnetic induction flow meters, measure flow rate and totals as well as temperature. The rugged meter body includes electronics, display, user interface, and output signal generation in one compact unit. In addition to being more compact it is also less expensive than comparable meters and sensors.
NEW for 2020 is the ABC- Automatic Batch Controller. The ABC is a simple controller that works with any meter that has a pulse output, an electrically or pneumatically actuated valve or pump. Perfect for batch mixing, kettle filling or beverage kegging.
Stop by Booth 3017 at the Craft Brewers Conference & BrewExpo America to try out the ABC- Automatic Batch Controller and speak with one of our Valve Specialists to learn how "We Make Valve Automation Easy!"