Problem:
Companies need to adjust flowrate to maintain a constant temperature of cooling water used for various processes. Unstable or fluctuating chill water temperatures can cause quality problems or possibly even damage to expensive equipment.
Solution:
Add an Assured Automation A1 Series Commercial Grade Fluid Flow Meter in line to monitor the flowrate through the chiller.
Advantages of Assured Automation A1 Fluid Flow Meters:
Battery operated
Compact Design
NEMA 4 Enclosure
Accurate
Not dependent on mounting orientation
Display can be mounted remotely
Nylon housing is compatible with raw water.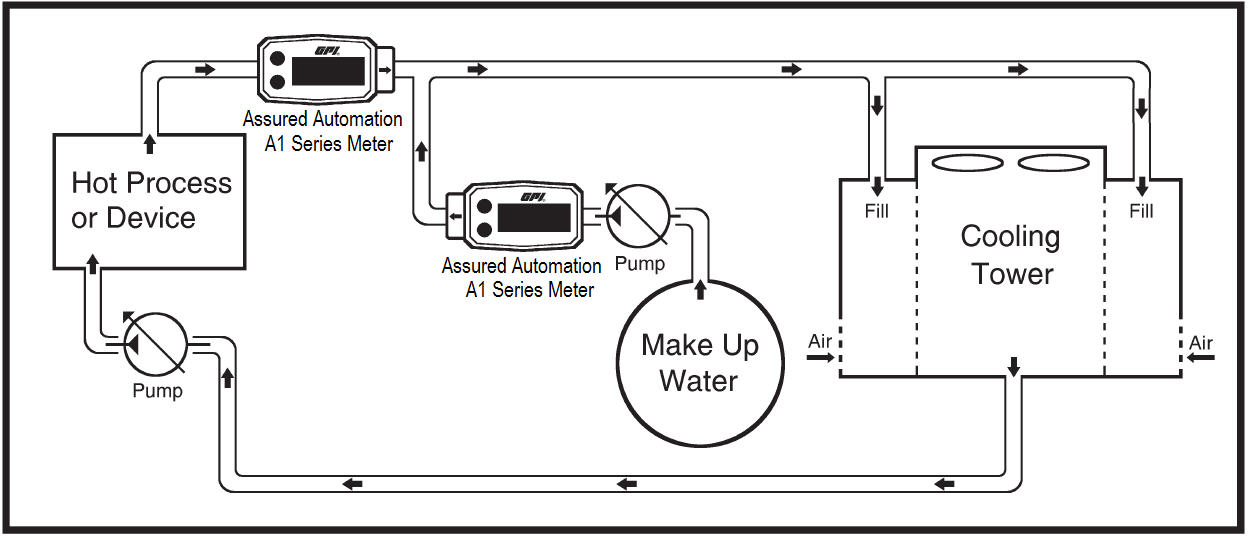 Application:
In the water chiller/cooling tower process there are multiple variables related to the Btu extracted from the incoming water. Those variables include Thermal Capacity, Air Flow Rate, Air and Water Contact Time and Circulating Water Rate. Two of these variables require a flow meter to accurately predict the efficiency of the cooler. Flow meters are required on the makeup water line and on the Circulating Water line in order to maintain the most efficient balance of recirculated water and makeup water to air flow. A flow meter is placed on the Circulating Water line to monitor flow rate. In some applications a second meter is placed on the makeup water line to monitor amount.