This video shows the features and benefits of the VAX High Pressure Coaxial Valve Series
Assured Automation: We Make Automation Easy!!
Valve + Actuator come together to form the VAX Series (high pressure coaxial valves) from Assured Automation
These high pressure coaxial valves feature compact design, fast acting actuation and high cycle life.
It is capable of pressures up to 600 psi, available in 2 or 3 way designs with brass or SS wetted parts. It is available in pneumatic or electric actuation. Feedback switches are also available.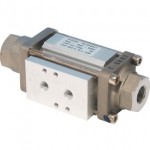 The demo in this video shows how the electrically actuated valve works, the red coil is energized creating a magnetic force which opens the valve, when the valve is de-energized the valve closes.
The next demos shows how the pneumatic operation works. Air is supplied to one side of the piston opening the valve, once air pressure is released the spring returns the valve back to closed position.
Applications for the VAX include:
vacuum and high pressure conditions up to 600 psi
gaseous, liquid, gelatinous or highly viscous media
high cycle applications
precise mixing and dispensing applications
Configure your VAX online using Assured Automation's online configurator. The valve configurator allows you to easily view available options, get pricing,purchase online or save the information to a file.
Assured Automation your source for automated valves and flow meters!
Thank you for viewing.
From your friends at Assured Automation
assuredautomation.com
For any other questions contact us online or call toll free at
1-800-899-0553.