Download or Request the New 12 Page Valve Product Overview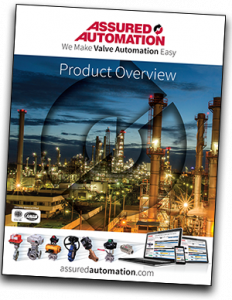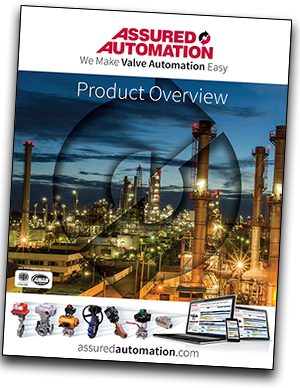 We have recently updated our Product Overview to include our newest products and product information.
The 12-page product overview is an interactive, full color downloadable PDF, featuring links to all product categories and products on our website.
This overview highlights our full valve, valve actuator, accessory and flow meter offering with product images and specifications.
Download or Request a hard copy of  the Assured Automation Product Overview today! Keep a copy of this valve catalog on your desk as a handy reference.
The downloadable Product Overview includes links to the related web site pages for each product group and all individual products.
Why Choose Assured Automation?
We employ a highly experienced team that is focused completely on valve automation. In addition to our experience, we have long running relationships with our vendors and manufacturers.
Working with Assured Automation will save you time on research and development, producing complete technical specifications and sourcing the necessary components for your job.
When a unique application requires a special solution Assured Automation will allow you to proceed with confidence!
We will help you make strategic decisions regarding:
Selecting the proper valve and actuator for each application
Reducing initial costs and cost of operation
Simplifying inventory by standardizing components
Avoiding excessive downtime for maintenance
Developing a proper maintenance schedule
Some of the benefits that our customers enjoy:
Assemblies are easily configured and quoted instantly online
Fast quotes provided on all products
One-click ordering of quotes
Complete documentation is readily available on our web site
Custom tagging of assemblies for use in P&ID drawings, HMI interfaces and maintenance logs
Same day shipping of assemblies using stocked components
Knowledgeable and friendly expert support