Kates automatic flow control valve instrumental in maintaining constant deionized water flow rate in hair color manufacturing process
Industry: Cosmetic (SIC code: 2840-4)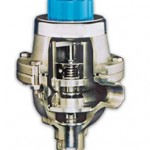 Application:
A major cosmetic manufacturer needed to control the blending of hot deionized water and hot oils with cold deionized water from scale-operated batching tanks in the manufacture of hair dyes.
Where in the process:
Assured Automation suggested the Kates Flow control valve be used to maintain a constant flow rate of the hot deionized water to ensure proper product emulsification.
Testing Parameters:
• Service Media: Hot deionized water
• Connections: 2" RF flanges
• Viscosity: 1.0 cps
• Material: 316SS
• Specific gravity: 1.0
• Options: Teflon O-Rings
• Source of flow: Centrifugal Pump
• Inlet Pressure: 60 PSIG
• Outlet Pressure: Atmospheric
• Flow Range: 25-50 gpm
Why is flow rate critical?
The controlled addition of hot deionized water is necessary to establish emulsification of the product without excess air, which would cause foaming and in some cases a slight exothermic reaction.
What alternatives were considered? Air loaded diaphragm control valves or ball valves.
Main reason for choosing the Kates Flow Control Valve:
The Kates unit offered constant flow rate and accuracy. The unit could be set to the needed flow rate and offered consistent repeatability without adjustment or supervision.
For more information on the Kates Flow Controller or Assured Automation's actuated valves and flowmeters please call one of our product specialists at 800-899-0553