Problem: A local distillery was directed by their insurance agency to incorporate fire safe shut off valves on their storage tanks to ensure closure of outlet valves to isolate flammable liquids in the event of fire.
Solution: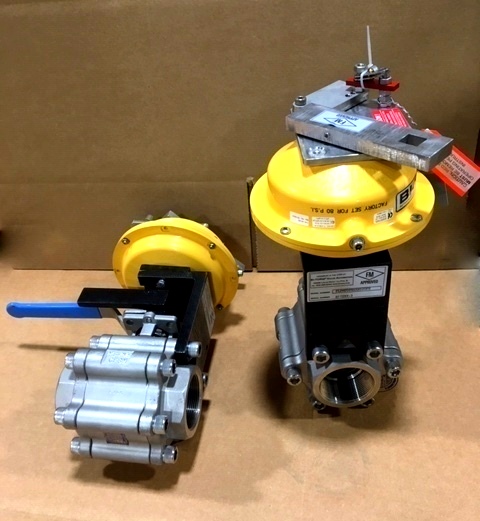 The head brewer at the distillery contacted us as they had successfully used Assured Automation automated valves and flow meters for previous jobs.
An Assured Automation product specialist suggested the use of the FM Fire-Safe Series. These FM approved thermal shut off valves are spring loaded with a thermal link. When the link burns in fire conditions the spring brings the API607 firesafe ball valve to a closed position, preventing the release of flammable liquids which could potentially feed a fire.
FM Fire Safe Series
Having a fire safety shutoff system in place is very important at any facility which deals with flammable liquids or gasses. The Assured Automation FM Fire-Safe Thermal and Electro-Thermal Emergency Shutdown Valve assemblies are constructed to automatically close or open and mitigate any conditions which could be deemed potentially dangerous.
Both the ball valve and butterfly valve designs are Factory Mutual (FM) approved. Thermal valves have thermal links which operate the valve at a predetermined temperature. The electro-thermal valve adds an electro-thermal link which can be triggered by a low power electrical current impulse, such as a smoke detector alarm. Both valve designs can also be operated manually without affecting the viability of the link.
The FM Fire-Safe valves are the perfect choice when the flow of hazardous liquid or gas needs to be completely halted due to the presence of fire. The valves can also be implemented in fire suppression systems, to release fire retardant in an isolated area instead of the entire plant.
3-piece Ball valve designs are available in sizes from 1/2 to 6"; thermal activation temperatures from 165 to 360° F; threaded, socket weld, butt weld, and flanged connection configurations. Butterfly valves are available in sizes from 2" to 12"; thermal activation temperatures from 165 to 360° F; carbon steel or 316 stainless steel.