Spring Return & Direct Acting 90° Pneumatic Valve Actuators-Up to 1,000,000 Cycles
For use on quarter turn (90 degree)ball vales, plug valves, dampers, and resilient seated and high performance butterfly valves, the F Series Pneumatic valve actuator offers a simple and cost effective solution for valve automation needs. This pneumatic valve actuator is available in double acting and spring return fail safe configurations.
HOW IT WORKS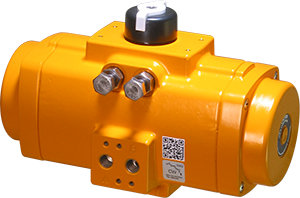 The Assured Automation F Series actuators operate with compressed air ranging from 40-120 PSI. F Series require no lubrication due to the carbon filled Teflon guide bands which keep the piston seals from wear and are self-lubricating.
The rotation of 90 degrees is caused by two dual opposed piston gear racks, which turn a center drive shaft. The drive shaft when coupled to a quarter turn valve drives the valve either open or closed. Position indication is visual with a top mounted indicator.
Additional accessories can be added such as Solenoids, Limit Switches, and Positioners as required.
KEY FEATURES
•Compact rack and pinion design for tight spaces.
• Up to 1 Million Cycles
• Self Lubricating Piston Seals
• Double Acting and Spring Return models either Fail Open or Fail Close
• Direct mounting to ball and butterfly valves- (See ISO valve mounting table below)
• Multiple ISO drillings on each actuator: NAMUR DVI/DVE 3845, DIN 3337, ISO 5211
• Namur Solenoid and Limit Switch Mounting
• Removable drive insert for diamond or square configuration
• Dual travel adjustment bolts
• Visual Position Indicator (Open/Closed)
MATERIALS OF CONSTRUCTION
Housing: Chromated aluminum with dual component polyurethane coating
Mounting and Shaft: High grade aluminum
ACCESSORIES
Solenoids: NAMUR mount (voltages of 12 to 24 VDC, 24 to 220 VAC), NEMA-4, NEMA-7, intrinsically safe
Limit Switches: Mechanical, proximity, ASI, fieldbus; visual open and closed indication
Positioners: Pneumatic (3 to 15 PSI control); electropneumatic (4 to 20 mA control)
SPECIFICATIONS
Temperature Range: -4 °F to +175°F
Supply Pressure: Spring Return: 40 to 120 psi Direct Acting: 20 to 120 psi
Torque Output: up to 40,000 in-lbs. (at 80 psi supply pressure) see torque charts on pages 2 & 3
Service Life: Up to 1 Million Cycles
Mounting/Shaft: ISO 5211/Female
ISO Chart