Schubert & Salzer Angle seat valve

Angle Seat Valve Model 7010 – NPT; Brass
Normally Closed – Flow Under the Seat

Size
Metal Actuator
Plastic Actuator
Assured Automation Model
1/2″
7010/015V1520071–VN
7010/015V1500071–VN
J9SPG1644
3/4″
7010/020V1520071–VN
7010/020V1500071–VN
J9SPG1645
1″
7010/025V1520071–VN
7010/025V1500071–VN
J9SPG1846
1 1/4″
7010/032V1520071–VN
7010/032V1500071–VN
J9SPG2147
1 1/2″
7010/040V1520071–VN
7010/040V1500071–VN
J9SPG2348
2″
7010/050V1520071–VN
7010/050V1500071–VN
J9SPG2349

Schubert & Salzer

Angle Seat Valve Model 7010 – NPT; 316 SS
Normally Closed – Flow Under the Seat

Size
Metal Actuator
Plastic Actuator
Assured Automation Model
1/2″
7010/015V15200P
7010/015V15000P
J4SPG1644
3/4″
7010/020V15200P
7010/020V15000P
J4SPG1645
1″
7010/025V15200P
7010/025V15000P
J4SPG1845
1 1/4″
7010/032V15200P
7010/032V15000P
J4SPG1846
1 1/2″
7010/040V15200P
7010/040V15000P
J4SPG2147
2″
7010/050V15200P
7010/050V15000P
J4SPG2348
2″
7010/050V15200P
7010/050V15000P
J4SPG2349
Features & Benefits of Angle Seat Valves
Integrated pneumatic actuator
NAMUR solenoid mounting pad
Compact assembly
Visual indicator
High Cycle-Life
Actuator rotates 360°
Complete line of accessories
Looking for an equivalent to Schubert & Salzer Angle seat valve?
Try our Ares & Zeus Series Angle Seat Valves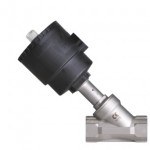 High Cycle-Life On/Off Valves
Pneumatically Actuated Piston Valves
[NPT 3/8″ to 2″ / Tri-Clamp 1/2″ to 2″]
The Angle Seat Valve is a 2/2-way pneumatically actuated piston valve for liquids, gases, steam and some aggressive fluids (vacuum services also.) The superior design of the piston is unique to the market, enabling the plug to retract farther from the flow path, ensuring the highest flow capacity. The dual packing design, and a large diameter self aligning stem insures the highest cycle life. A full range of accessory items are available including limit switches, solenoid valves, manual override devices, stroke limiters.