Ordering Assured Automation Valve Accessories and Controls online is both quick and easy.
Assured Automation valve accessories and controls are selectable and configured as a part of our online Valve Configurators. If you would like to purchase valve accessories & controls such as NAMUR Mount Solenoid Valves or CB Series Weatherproof Control Boxes individually and not as a component of a larger valve assembly, follow the steps listed below.
Ordering Valve Accessories and Controls
Click on the Configurator product link from the Assured Automation Home Page, or
Click "Buy Online" icon from the
Valve Accessory & Controls Selection Chart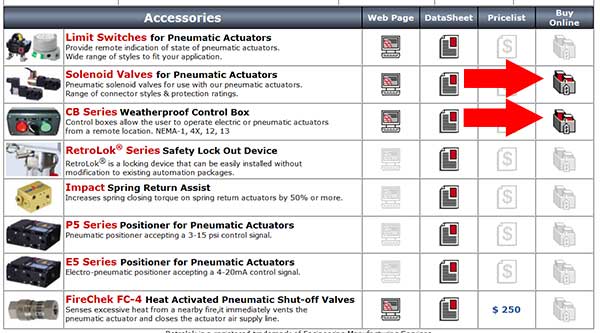 Note:  Actuated valves can be assembled with limit switches and positioners within the Valve Configurators. Assured Automation also provides online configurators for the following individual accessories:
When adding either of these accessories to your cart, a price quote will be automatically generated, which you can view, print, email, save, or proceed to checkout.
To purchase limit switches, positioners, safety lockout devices, spring return assists which are not part of a valve assembly, you can:
Call our Technical Sales staff for assistance:
800 899-0553
Fax a Quote Request Form to 732-381-2328